McKendree Magazine (Fall 2016)
Greetings from McKendree University! If you picked up your copy of the magazine for McKendree and noticed something different about it, you would be correct. For instance, you might have noticed the size of this issue which resembles the old sears and roebuck Christmas Catalog of years gone by (yes, I am dating myself). This is the largest issue we have produced and I would like to invite you to spend some extra time with it, because you will find some important information I would like to recommend to you.



McKendree University celebrated the accomplishments of several alumni at its annual awards dinner, held on Oct. 15 at the St. Clair Country Club in Belleville, Ill. Chosen by the University's alumni board, the 2016 awardees have made their mark in their professions and at their alma mater.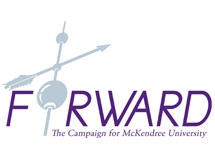 FORWARD: The Campaign for McKendree University »
McKendree University has been driven by the desire to propel itself FORWARD for 188 Years.  This constant motion has created a rich tapestry of intellectual inquiry, student engagement, artistic expression, and opportunity for vital growth, all in a community often characterized by the familiar words "home" and "family."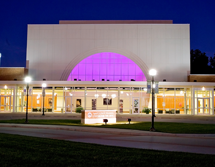 The Hett Celebrates 10 Years! »
The Russel E. and Fern M. Hettenhausen Center for the Arts opened in November 2006 and has since become Southern Illinois' premier performing arts venue. The state-of-the-art theater is home to McKendree's music, dance, theatre and show choir programs. Director Peter Palermo and Tech Manager Doug Magnussen have guided "the Hett" since its beginning.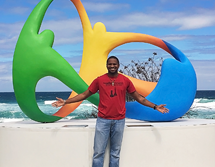 Bearcat Alums Make Their Mark on Rio 2016 »
A sport psychologist. An equestrian course designer. A women's 4x400 meter relay runner. An event coordinator. Their backgrounds could not be more different, yet each of these McKendree alums shared an unforgettable experience this summer. Traveling all the way to Brazil, they contributed their professional talents and hard work to the oldest and most storied athletic games in the world: the Olympics.


From the first campus tour to the excitement and culmination of commencement, McKendree students are surrounded by a closeknit community of mentors and encouragers, people who stretch your mind and show you just how much you're capable of achieving. For many students, it's a faculty member who took the time to know them on a personal level and offer guidance that changed the course of their future. For others, it's the Career Services staff whose endless resources and one-on-one assistance opened up job opportunities they never knew existed. And for some, it's an alum whose support and advice transformed them from a mentor to colleague to friend.


McKendree University welcomed the largest and most diverse student body in its 188-year history, with the arrival of 470 new first-year students and 120 new transfer students.

Eighty percent of first-year students have received an academic scholarship; 47 percent of them graduated in the top 25 percent of their high school class and many were valedictorians. Collectively, the Class of 2020 has an average grade point of 3.5. most mcKendree first-year students—91 percent—are living in campus housing.


Dr. Christopher Dulaney '05, MBA '08, assistant professor of computing, earned a DBA with specialization in information technology management from Capella University. he was employed previously by Boeing.

Kari Frizzo, MSN '12, instructor of nursing, was a former assistant professor of nursing at Kaskaskia College.


Four new graduate programs, a 3+3 law program, and four undergraduate majors were launched this fall.

The Master of Arts in Criminal Justice program is geared toward students who want to further their careers in criminal justice or their education at the doctoral level. The program is offered both online and on campus.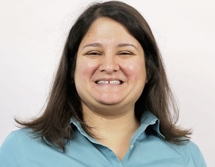 New AVP for Student Affairs
Shruti Desai, assistant vice president for student affairs, earned a M.Ed. in college student affairs counseling from the University of Georgia and is currently working on her Ed.D. in higher education administration from Maryville University. She was formerly associate director of residential life at Washington University.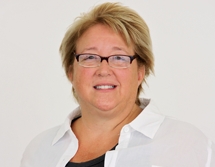 Faculty & Staff Leadership Promotions »
Nine faculty and staff members have been promoted to leadership positions.

Dr. Kian Pokorny, professor of computing, is chair of the Division of Computing.

Dr. Jean (Scheller) Sampson '83, associate professor of management, is chair of the School of Business.


Sophomores Chloe Thies and Andrew Wagner traveled to Japan in June with Dr. Melissa Barfield-Works, associate professor of sociology, as guests of Technos International College in Tokyo. Technos partners with universities around the world to promote Japanese culture and to strengthen American-Japanese ties during a two-week annual summer study program.


Senior information technology and Spanish major Brady Rose studied abroad at La Universidad Pablo de Olavide in Sevilla, Spain during the Fall 2015 semester. His study abroad experience included courses on Spanish language skills and Spanish society and culture, and field trips to Madrid, Toledo, Córdoba, Málaga and Granada in Spain and Lisbon and Évora in Portugal.


The United Methodist Church has designated McKendree a national historic site for its close ties to early American Methodism in Illinois and for 188 years of service to higher education. The University joins several notable congregations, campgrounds, buildings and locations on the UMC historic registry.


Sophomore Shaquille Armstrong is a kind, soft-spoken idealist who walks his talk by working hard for social change, unity and tolerance. The sociology-criminal justice major is one of 218 inspirational students selected as a 2016 Newman Civic Fellow, a nationwide honor given by a coalition of 1,100 college presidents.



Student Activity Advisory Committee Chair Krys Major '16, community service coordinator Lindsay Winkeler '16 and Student Government Association President Rhoda Warner '16, entered the Student Hall of Fame, while several others took home awards for leadership and service on April 10.



Dr. Shelly Lemons, associate professor of history, and Elizabeth Bruchhauser, senior English major, both received the Volunteer of Excellence Award from the Girl Scouts of Southern Illinois in April for a University Garden harvest project and Art Attack council workshop, both of which took place at McKendree.


Dr. John Watters, associate professor of economics, accepted the 2016 William Norman Grandy award during the may 14 commencement ceremony. Former chair of the School of Business, John brought over 25 years of corporate business experience to McKendree when he started teaching in 2007.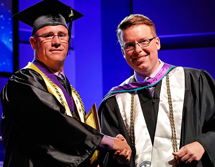 Kentucky Faculty & Student Awards »
At the June 4 commencement ceremony in Kentucky, longtime associate faculty members John Seldomridge and Greg Bailey received the Outstanding Faculty Awards. Both practicing attorneys, John began teaching at the Radcliff campus in 1986 and Greg at the Louisville campus in 1988. Howard Gleason '16 and Charlotte Eldridge '16 received the "Spirit of McKendree Award." Howard, a retired Army veteran, graduated with a bachelor's degree in accounting from the Radcliff campus. Charlotte, a Louisville student, earned her bachelor's degree in business administration.


The Senior Class Gift committee, led by Rhoda Warner '16 and Tony Viviano '16, set an ambitious class goal (187 gifts) aimed at increasing senior giving participation levels. Two-hundred-ten seniors participated, which is three times more than in 2013, 2014 and 2015 combined.


When two-time McKendree graduate Sheila Johnson-Glover '12, MBA '16 enrolled in the undergraduate business administration program seven years ago, she didn't foresee being diagnosed with stage four breast cancer her first semester. "I didn't think I would live long enough to finish my bachelor's degree, let alone my master's, and now I've done both," she says. "I was so excited and my heart was so full to graduate with my MBA this year."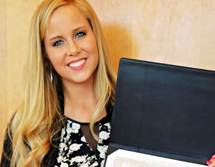 Honors Convocation: Outstanding Students, Faculty & Staff »
Academic achievers across all disciplines were introduced, and faculty awards presented, at the April 28 Honors Convocation. Christin Austin '16 was awarded the Tanaka Educational Trust Technos International Prize for academic achievement and international understanding. The political science graduate visited Technos College in Japan and took a medical mission trip to Haiti.


Collectively, they have given McKendree 77 years of dedicated service in the classroom. They have been instrumental in laying the foundation and leading the growth of some of the University's most highly successful programs in the arts and business. more than just dispensers of course curriculum, they have been mentors, inspirers, encouragers, and they have changed the lives of decades of students.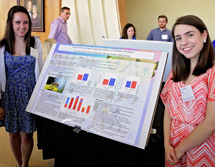 Sigma Zeta National Convention
McKendree's Beta chapter of Sigma Zeta hosted the science, mathematics and computer science honor society's 2016 national convention, March 31-April 2. Over 130 members from 16 chapters attended oral and poster presentations on research in biology, chemistry, mathematics and computer science. Seniors Aubrey Masterson and Alexandra Nash presented at the conference.



Junior Dylan Comer and senior Tyler Jewell performed in the Theatre Department's production of "A Midsummer Night's Dream" at the Hett, March 3-6, to honor William Shakespeare on the 400-year anniversary of his passing.


McKendree hosted its first Colleges Against Cancer Relay for Life on April 22 at Leemon Field to celebrate survivors, remember loved ones lost, share information and raise funds to support research and patient services. Junior Bailey Rhodes, a cancer survivor, gave the introductory remarks.


Playing the Egyptian darbuka and the Armenian duduk, Israeli-Mediterranean musical group Baladino brought world music to the Hett and local communities for a week in April. As the only Illinois partner in the 10-state Arts Midwest World Fest, the Hett hosted these talented musicians from across the globe for a week of workshops, concerts and cultural exchange.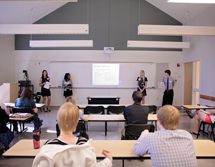 Academic Excellence Celebration »
The third annual Academic Excellence Celebration gave students opportunity to present, perform and exhibit scholarly and creative projects developed throughout the year. The April 28 event included honor society inductions and an Honors Convocation to recognize graduating students for their academic accomplishments.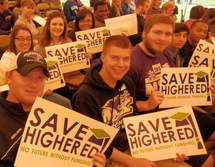 Statewide Rally to Save Higher Education
McKendree students, faculty and staff members were among a large group from public and private colleges who gathered on April 20 in Springfield, Ill., at the Statewide Rally to Save Higher Education, organized by the Illinois Coalition to Invest in Higher Education.


The new McKendree Metro Plex is slated to open this winter. located in O'Fallon, Ill., the 45-acre recreation center will include two NHL-sized ice rinks, an aquatic center with competition pool and dive area, fitness area and other amenities. The Bearcat men's and women's hockey teams, swimming teams and water polo teams will be private tenants in the facility, utilizing the space for practices and competitions. Check out McKBearcats.com for inaugural game schedules.


The Radcliff, Ky., campus celebrated the completion of its renovated building at 1615 W. Lincoln Trail Blvd., with a ribbon cutting and open house on April 20, hosted by the Hardin County Chamber of Commerce.

The two-story, 5,500 square-foot building sits on an adjacent lot to its original 9,000 square-foot building. It has four classrooms (one also serves as a computer lab), a reception/lobby space and vending area on the first floor. The second floor is currently unfinished, however future plans include space for administrative offices.


With the continuous growth in student population and the demand for increased student housing options over the past few years, 86 students moved into a certified off-campus housing complex on Summerfield Street. The newly renovated "Bearcat Den" is comprised of four-bedroom apartments with a private bathroom, a common area with couch and flat screen TV, a fully equipped kitchen, and washer and dryer hook-up.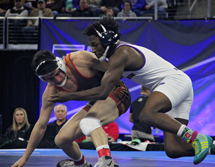 NCAA DII Men's National Champion »
Darren Wynn won the NCAA Division II Men's National Championship title in March. Within minutes of his 12-8 victory over the No. 6-ranked wrestler from Seton hill University, McKendree's Twitter feed erupted with the news #AllHeDoesIsWynn.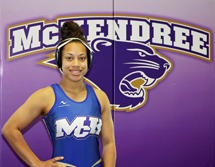 Body Bar Women's National Champion »
Alexis Porter won the Body Bar Women's National Championship in May. In September, she captured the bronze medal at the United World Wrestling Junior World Championship in France.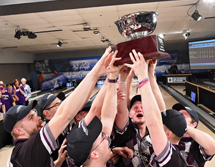 A Striking Year for the Bearcat Bowling Team »
There's nothing better than finishing your college bowling career as a member of the best team in the nation. For McKendree seniors Riley Smith '16, Shawn Bibee '16, and Ryan Patterson '16, that victory was even sweeter because it was something they promised themselves they would achieve ever since their freshman year.

In 2013, the McKendree men's bowling team made it to the final round of the United states Bowling Congress (USBC) Intercollegiate Team Championships and went home with second place. While it was still an impressive all-time high for the Bearcat bowlers, all three seniors were determined to make it back one day and finish what they came so close to achieving.

Letter from the Alumni Director »
It's hard to believe that just over one year ago, I began this journey as your director of alumni relations. It has been a wonderful experience getting to meet all of you.

Last year our office really focused on alumni engagement. We significantly increased the number of alumni events and activities in hopes that more of a variety would appeal to a larger mass of alumni. As a result of these activities and the work of the Annual Fund, we had more alumni donors last year than in  over a decade! Thank you to all of you who made this happen. Every gift counts, no matter how big or small.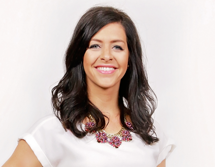 Assistant Director Spotlight »
Holly Weathers '13 was promoted to assistant director of alumni relations in April. The former alumni relations and database assistant is now responsible for creating and writing marketing and advertising materials for the Alumni Association, coordinating major alumni events, supporting the development of new volunteer and networking opportunities that increase student and alumni engagement, and assisting in maintaining the integrity of the database and alumni stewardship.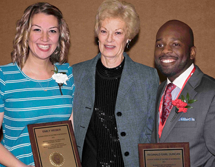 Education Alumni Receive Prestigious Illinois Teaching Awards »
Reggie Duncan, M.A.Ed. '12 and Emily (Zanfes) Weber '09 received the Excellence in Mathematics Teaching Award from the Illinois Council of Teachers of Mathematics (ICTM) at the organization's annual conference in October. A fifth grade teacher at Wingate Elementary School in Mascoutah, Ill., Reggie received the award for Elementary Mathematics, and Emily, a teacher at Joseph Arthur Middle School in O'Falllon, Ill., accepted the award for Middle School Mathematics. Only one teacher in the state of Illinois from each category is presented with the award every year.


Make It McKendree