President's Message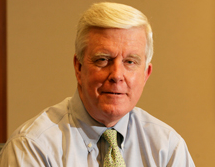 Dear Friends,

Greetings from McKendree University! If you picked up your copy of the Magazine for McKendree and noticed something different about it, you would be correct. For instance, you might have noticed the size of this issue which resembles the old Sears and Roebuck Christmas Catalog of years gone by (yes, I am dating myself). This is the largest issue we have produced and I would like to invite you to spend some extra time with it, because you will find some important information I would like to recommend to you.
FORWARD: THE CAMPAIGN FOR McKENDREE UNIVERSITY —
THIS IS A SECTION I HOPE YOU WILL SPEND A GREAT DEAL OF TIME REVIEWING.


You will note the presence of a new section which announces the public kick-off of FORWARD: The Campaign for McKendree University. This is a section I hope you will spend a great deal of time reviewing. It will provide insight on the important initiatives in the Campaign, our progress to date, and a wealth of information about how you can join those who have already provided support to help us secure the funding required to advance the University FORWARD for generations of students to come.

In addition, you will note all of your old favorites are here, class notes, a recap of Commencement and the like, but you will also find the President's Report and some longer profiles on some of the people who are doing remarkable things at the University.

Oh, and finally, I would also note that if something else seems different, you would be correct again. We hope you enjoy the updated and refreshed design of the magazine.

As always, please come and visit us on campus. McKendree is a wonderful place and it is doing extraordinary things for our students!

Sincerely,

James M. Dennis
President