2022 Graduates Who Have Made Their Mark
by Haley Moody '22



Scott Anderson '22
Political Science major from East Alton, Ill.

Named to the President's List and the Dean's List

Model UN Secretary-General

Speech & Debate Team

Member of Phi Eta Sigma First-Year Student Honor Society; Pi Gamma Mu Social Sciences Honor Society; Pi Sigma Alpha Political Science Honor Society; Pi Kappa Delta Forensics or Debate Honor Society

Alpha Delta Gamma Vice President of Finance; Vice President of Internal Affairs

Scott Anderson's older sister graduated from McKendree the year he graduated high school. Throughout her time there, Scott remembered being extremely proud of her. He would tell almost everyone he knew that his sister went to McKendree University.



"During my life, I have always looked up to my parents who were both educators," he said.  "When my sister graduated from one of the best schools for educators in the region, even having a job lined up before she walked at Commencement, I was probably the happiest I had ever been in my life."


Sitting on the front lawn of McKendree's campus, Scott knew he made the right decision to attend McKendree after seeing his sister walk across the stage with the biggest smile on her face.

After meeting with Dr. Kevin Zanelotti to discuss McKendree's programs, Scott ran into a professor on campus who asked him what he would be studying. When Scott told the professor he was planning to study political science, they lit up and told him he should definitely "choose wisely" because "McKendree's professors in that field are the best." After that conversation, Scott bought a grey McKendree crew neck. "I wore it to my high school with a huge smile," he said. "I still wear it."

During his time at McKendree, Scott gained confidence in his abilities to contribute to society in productive ways.



"I have always been taught to lead by example and to be empathetic, and through McKendree's curriculum, I was able to engage with the world around me while also receiving a very specialized education," he said.
"I have been able to discuss political and philosophical concepts for nearly four years and it has been very interesting. Different classes offered many opportunities for very inciteful discussions."

Scott also worked at the Madison County State's Attorney's Office for two summers as an undergraduate intern where he was introduced to the legal profession. He was exposed to great leadership and advocacy in many courtrooms, watched multiple criminal trials and various court proceedings, and formed many connections within the Child Support Division. He will always have a deep respect for the Assistant State's Attorneys and the support staff who work hard to protect and support victims.

Scott thinks back fondly on all the times he strolled around the beautiful campus and neighborhoods of Lebanon with his girlfriend Valerie.

"While discussing our future, we mention possibly getting married at McKendree," he said.

Scott cherishes his time spent at McKendree University but looks forward to a new chapter in his life where he'll be attending Saint Louis University School of Law.


Hallie Dixon '22 
Computational Science, Mathematics, and Data Analytics major from Jeffersonville, Ind.

Phi Eta Sigma President & Historian

Member of Phi Kappa Phi National Honor Society and Pi Mu Epsilon National Mathematics Honor Society

NSO Leader and UNI 101 Peer Mentor


STARK computer science program

Swim Team

GLVC James Gaffney Distinguished Scholar Award 2021

2020-21 CSCAA NCAA Division II All-American Team & Scholar All-American Team

Hallie Dixon chose a Mathematics degree because she had loved math her entire life and wanted to explore this passion in college. Once she was introduced to computing and coding in her classes at McKendree, she realized how much she loved the way code used mathematical principles. She decided to major in both Computational Science and Data Analytics, in addition to Mathematics, due to recommendations from her professors.



"Through my McKendree educational experience, I have gained a vast knowledge of math and computer science principles," she said. "I have also learned how to apply these principles to real-world applications."

In her senior year, Hallie worked on a project with her fellow classmate, Jenna Krause, where the two combined economic and ecological data to analyze city population growth. She was also a data analytics intern at the Hett with Garrett Schrock. Together, the two analyzed trends in ticket sales.   

Additionally, Hallie was a member of McKendree's swim team and even made her mark as the first female NCAA All-American on the team in 2021. One of the most memorable moments for her was the journey to nationals. "I had been striving to make the nationals team since my freshman year," she said. Hallie's dream became reality in her junior year when McKendree competed at the NCAA Division II Swimming & Diving National Championships. She took 8th place, earning her a College Swimming and Diving Coaches Association of America (CSCAA) All-American nod.

"It was an incredible experience made even more special by the love and support from my teammates and the McKendree family," she said.

Hallie is glad to have met so many remarkable people that truly made McKendree feel like home but now looks forward to continuing her education at the University of Louisville's Master of Science in Business Analytics program in the fall.

Larry Davis '22
Organizational Communication major and outstanding program student from Country Club Hills, Ill.

Head Podcast Producer at McK Radio

Bearcat Football Team

Residence Life

Black Student Organization

President of Alpha Phi Omega National Co-Ed Service Fraternity

Vice President of Phi Beta Sigma Fraternity

Member of Lambda Pi Eta Speech and Communication Honor Society
Due to his enthusiastic nature, Larry Davis loved to seek out new opportunities and ways to be involved on campus. As a communication major with a minor in management, Larry had to balance his studies with football and the many organizations he actively participated in.

Larry's most memorable moment at McKendree happened in his sophomore year when he had a new member release show with four of his life-long brothers for Phi Beta Sigma Fraternity Inc. A lot of preparation went into the show but for Larry, all the hard work had paid off because this brotherhood enriched his college experience in more ways than he can express.



"As one of the five first initiates of the Gamma Rho Eta Chapter, I learned many useful skills that led me to branch out to other organizations," he said.

Larry was involved with Alpha Phi Omega National Co-Ed Service Fraternity, Black Student Organization, Lambda Pi Eta Honor Society, Residence Life, and MCK Radio among others.

An unforgettable experience that comes to mind for Larry is when he interned for MCK Radio and was in charge of the podcasting team. Through this experience, he learned a lot from his accomplishments and failures. "With the help of my advisors (Sara Frank-Trask, and Rich Murphy) and co-workers (Haley Rey and Nat Wilk), I was able to develop many skills and sharpened the ones I already had. It was truly a great time," he said.

It was Larry's dream to become a radio show host, and he knew a communication degree would help him towards that goal, but after being employed as a manager at KFC, he decided to minor in management.



"I wanted to see myself take on responsibility for other businesses," he said.
Larry doesn't believe he impacted McKendree itself but rather the people within it. Having been so active in many organizations throughout his four years at McKendree, Larry was able to build relationships and touch people with his kind actions, great work ethic, and positive attitude.



"These few things allowed me to build strong relationships with many students, faculty, and staff," he said.

"The biggest thing I've learned from my educational experience is that I won't truly know anything until I experience it for myself," Larry said. "Learning in class is not the same as learning through your own experiences."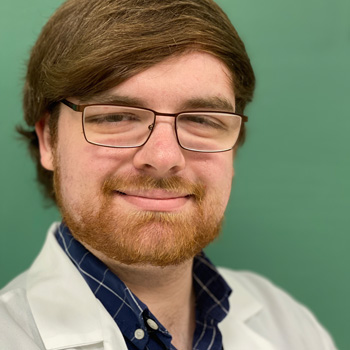 Kyle Garrett '22
Chemistry major from Troy, Ill.

Honors Program

Speech & Debate NPTE national runner-up 2021; PKD national runner-up 2022; NPDA All-American 2022

Model United Nations

American Chemical Society St. Louis Chapter Outstanding Junior Award recipient

Kyle Garrett knew he wanted to pursue a degree in chemistry from the moment he finished honors chemistry in high school.



"I chose McKendree due to its small class sizes with a great sense of community. I personally know every one of the graduating seniors in my major, and I think that is very special," he said.

"McKendree is unique with regard to student freedom. Due to the smaller class sizes and the ability for professional relationships between students, faculty, and staff to be formed, students who seek to push the boundaries of their knowledge beyond their coursework are able to do so. Through my studies and my extracurricular involvement, I have acquired the ability to take useful notes, communicate in a concise manner, and engage in enriching dialogue with those in my field." 

Kyle has been an award-winning member of the university's speech and debate team for four years. His highest achievement was taking second place at the National Parliamentary Tournament of Excellence in 2021. This tournament, requiring qualification through a point system, represents the fiercest competition in the country.



"It was certainly an unforgettable honor to represent McKendree there, and it was one of my most memorable moments," he said.
"Most debate students who come to McKendree have little to no high school experience, while most other institutions in the country only look to recruit those with past experience in high school. I think that McKendree's debate program highlights that hard work and dedication can truly be the difference between success and greatness."

Kyle has also worked in Voigt Science Hall for three years. "My duties included preparing all laboratories for faculty instruction, providing supplies and information for students working on their individual research projects, and assisting with sorely needed projects to help renovate our lab spaces for efficiency and safety," he said.

Additionally, he conducted his own individual research under the advisement of Dr. Vincent Dunlap centered on developing new chemical dye molecules for use in sentinel lymph node biopsies for patients suffering from breast cancer.



"Working in the labs at McKendree has allowed for me to develop working relationships with my peers as well as to meet one of my best friends, Nigel Bennett, who will be graduating with me this May," he said.

"We've both walked a similar path through our undergraduate experience, and it is exciting to know that we've reached the end and will soon be moving on to the next chapter of our lives."

After graduation, Kyle will be attending the University of Michigan - Ann Arbor this fall to continue his education in chemistry through their PhD program, and there too he will surely make his mark.

Abigail Kishimoto '22
Psychology major from Yucaipa, Calif.

Psi Chi Honor Society Officer

Head Culture Co-Writer for the McKendree Review

Water Polo Team

Phonathon Caller

Member of Phi Eta Sigma - First-Year Student Honor Society

Member of Phi Chi - Psychology National Honor Society

Currently a substitute teacher, Abigail Kishimoto holds the interim position as the director of children's ministries at the First Baptist Church of Redlands. During her time at McKendree, Abigail chose to major in Psychology because of the amazing psychology professors who guided and shaped her into the person she is today.



"I learned so much from each of my classes, and every professor brought something different to the table," she said.

Abigail was an officer for the Psi Chi Honor Society and was the Head Culture Co-Writer for the McKendree Review during her senior year. She also presented at Academic Excellence Celebration and published research with Dr. Boysen, Erika Axtel, and Breanna Sampo.



"I have gained a lot from McKendree University." she said.  "I had a lot of academic opportunities that I did not know I could achieve. I felt as if I left McKendree with a sense of confidence and felt prepared for a future after graduating."

Abigail was also part of the women's water polo team for two years. "I have a lot of memories from McKendree, but one memory that has stuck with me is definitely the support that athletic teams gave to each other during their seasons," she said. "Attending other sports events with the water polo team was always enjoyable!" 

Starting a new chapter in her life, Abigail looks forward to continuing her education in the fall at the University of Redlands to earn her Multiple Subject Credential and her Master's in Teaching and Learning.

Debra Waters '22
DNP in Ethical Leadership and outstanding DNP student from Plainview, Ill.

Received the Lavonne A. Straub Nursing Student Research Award and the outstanding student award for MSN in 2010

Member of Phi Kappa Phi National Honor Society and Sigma Theta Tau Nursing Honor Society

President and Founder of Alexander Morgan Consultants, LLC

Former VP of Clinical Operations at ECI Healthcare Partners; former Chief Nursing Officer at Carlinville Area Hospital; Former Supervisor of Patient Care Services at Christian Hospital and Northwest HealthCare

Member of American Nurses Association Illinois and ANA-Illinois Membership and Legislative Committee Member

Member of Healthcare Compliance Association and Society of Hospitalist Medicine

Alumnae Engagement Committee Member at the Illinois Women's Institute for Leadership Training Academy

Congressional Ambassador for the Alzheimer's Association Illinois Chapter and Advocacy Volunteer for the National Alzheimer's Association

Advocacy Volunteer for the American Cancer Society and Past Chairman of the Board of the Illinois Division of the American Cancer Society
As an online student, Debra Waters couldn't participate in as many on-campus organizations and activities as she would have liked, but that didn't stop her from making her mark at McKendree. Soon to be a three-time alumna of the university, she earned her BSN in 2008 and MSN in 2010. Debra chose McKendree's DNP program because of its great reputation and because of the positive experiences she had in previous programs.

She completed a research project focused on the COVID-19 pandemic and the increased morbidity and mortality among healthcare professionals as a result of inadequate preparation and response. She also completed her leadership practicum with Lisa Stand, a Senior Policy Advisor with the American Nurses Association (ANA).



"I was a guest author for the ANA Capitol Beat Blog twice; once to provide analysis of H.R. 36353, proposed legislation designed to strengthen the nation's PPE stockpiles, and most recently on the OSHA call for comments on making the COVID-19 Healthcare Emergency Temporary Standard permanent," she said.

Additionally, Debra was nominated as a Sigma Theta Tau Rising Star of Research and Scholarship and will be representing McKendree University when she presents her project at the Sigma Theta Tau Congress in Edinburgh, Scotland this July.



"As the final act of my Advanced Nursing Scholarly Project, I testified in early May at an Occupational Safety and Health Administration (OSHA) hearing regarding a permanent COVID-19 healthcare workplace safety standard," she said.

"I have been a Registered Nurse for more than 30 years, and I hope to use the knowledge and skills that I gained throughout the DNP program to further my interest in advocating for evidence-informed health policies that reflect a fair and equitable healthcare system."


Make It McKendree