Special Education Endorsement

Why a Special Education Endorsement?

Students learn in a wide variety of ways. For special needs students, an effective learning environment can look very different from a standard classroom. Learning Behavior Specialists ensure that every child is given the tools they need to succeed academically, socially, and on a personal level. You too can make a lasting, positive change in a special needs student's life when you earn your Special Education Endorsement from McKendree University.

McKendree's graduate program leading to a Special Education Endorsement combines theory and practical experience to prepare you for a career as a Learning Behavior Specialist. You'll learn from our skilled faculty, whose real-world experience working in Special Education gives you a firsthand glimpse into this fulfilling career field. 

The Special Education Endorsement is geared toward teachers holding a current professional educator license with primary endorsement in elementary, secondary, or special  areas. It is valid for the grades in which you are already licensed.



Education Degrees for Busy Adults Brochure

Curriculum Requirements

The following courses are offered for the Special Education Endorsement:
SPE 405/505 - Instruction of Diverse Learners (3 hours)
SPE 690 - Characteristics of Students with Disabilities (3 hours)
SPE 592 - Assessment and Progress Monitoring in Special Education (3 hours)
SPE 594 - Methods of Teaching Students with Disabilities (3 hours)
SPE 594B - Field Experience III (0 hours)

In order to receive the Special Education Endorsement, you must meet the following criteria:


Current Professional Educator License

Completion of coursework in the below areas:




Survey of the Exceptional Child

General Characteristics of Children with Disabilities within the LBS 1 scope

General Methods for Teaching Children with Disabilities within the LBS 1 scope

Psychological Assessment of Children with Disabilities with the LBS 1 scope

Passing score on Learning Behavior Specialist Test (LBS 1)

Completion of any deficiencies in tests or coursework
Format

McKendree's Special Education Endorsement classes are offered in both eight-week and 16-week formats. Specifically designed for current teachers, they enable you to swiftly meet your educational goals while managing a full-time teaching job.

Allison Cassens Community Foundation Scholarship
McKendree University is pleased to offer the Allison Cassens Community Foundation Scholarship to be awarded to selected students enrolled in the MAED/MAT in Special Education programs or Special Education Endorsement program. Please submit your application for the scholarship before December 7, 2018.

Admission Requirements
To apply for McKendree's courses in Special Education Endorsement, you must have a baccalaureate degree from a regionally accredited institution. We consider applicants on an individual basis without regard to sex, race, disability, nationality, or religion.

All students taking endorsement coursework will be classified as non-degree seeking. A completed graduate admission application (no fee) is required for consideration for admission.

Graduate Education Student Services
Maria Knedel, M.S.
Student Services Specialist
(618) 744-0426
mlknedel@mckendree.edu

Meet the Faculty
Chair, School of Education
Piper Academic Center (PAC) 202
(618) 537-6485
ajfahsl@mckendree.edu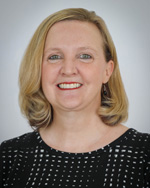 Dr. Karee Nasser
Piper Academic Center (PAC) 207
(618) 537-6552
konasser@mckendree.edu
Get a great graduate education with location and format options to fit your busy lifestyle. Apply Online!