Scholars. Mentors.
Their research and creative work has been published in countless scholarly books and journals. Their real world experience makes them among the leading experts in their fields. Their leadership initiatives have fueled the formation of vital community partnerships and academic programs. But one of their highest priorities is you.

As scholars and mentors, McKendree faculty make it their mission not only to make meaningful contributions in their fields of study, but also to guide their students in developing those skills and knowledge for themselves. Our professors get to know you personally, so much that our alumni consistently list their relationships with faculty as one of the most memorable parts of their McKendree experience.

From inviting you to collaborate with them on unique research projects to offering personalized guidance throughout your college career, McKendree faculty are inspiring generations of students with their impressive accomplishments and the genuine care they show each learner.
Dr. Michele Schutzenhofer
Professor

Ph.D., Ecology, Evolution & Systematics, Saint Louis University
B.S., Biology, McKendree College


Joined the McKendree faculty in 2007

Teaching interests: Organismal and population biology, environmental science, ecology, conservation biology, field botany, animal behavior
Research interests: Community and population ecology, rare and invasive plant species
During the 2014-2015 academic year, Michele Schutzenhofer conducted research on grassland restoration.

"I used my sabbatical to establish a locally based research program that will investigate how grassland restoration practices influence plant-pollinator communities," she explained. In addition, she has since embedded aspects of her research within her courses to provide authentic research experiences for students.

Schutzenhofer spent time at the beginning of her sabbatical delving into the literature to review the current scientific research on restoration practice in grassland systems and attending invited speaker events at other universities. Simultaneously, in order to fund her work, she wrote a full working draft of a National Science Foundation grant to support the research project. She is editing the draft for submission this winter. She also submitted a $25,000 grant proposal to the Conservation Fund.

To support team-based independent research projects for students, Schutzenhofer developed several innovative ecology instructional games.

"These games will serve to not only deepen learning of ecological content through increased student engagement, but also reinforce the collaborative nature of science," she explained. She presented her activities as a poster at a teaching conference last summer. As a result, she was asked to develop them into a full workshop for the organization's 2017 conference.

Schutzenhofer has designed her research to be a long-term project of at least ten years. She has begun integrating it with two McKendree University courses. "Ecology students will learn how to do science through completion of an independent research project as part of a team," she said. "Future years will include expansion of the research, including an experimental planting at a local site and more data sites."

-- by Lauren Putbrese '16

Learn more about McKendree University and the Biology program.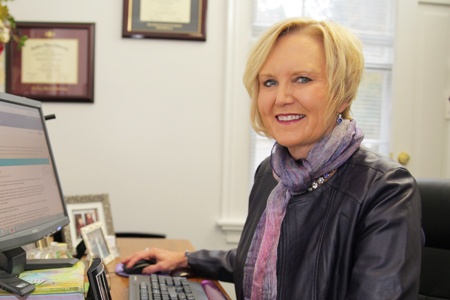 Dr. Richelle Rennegarbe
Professor of Nursing
Chair of the Division of Nursing

Ph.D., Health Education, Southern Illinois University Carbondale
M.S., Community Health, Southern Illinois University Edwardsville
B.S.N., McKendree University
A.D.N., Kaskaskia College


Joined the McKendree faculty in 1991

Certification in Executive Nursing Practice, American Organization of Nurse Executives

Hospice of Southern Illinois board member

Illinois Organization of Nurse Leaders board member

Illinois Critical Access Hospital Network Service Award, 2013

Former chief nursing officer and chief executive officer, Salem (Ill.) Township Hospital
Richelle Rennegarbe is passionate about the education and professional development of nurses, especially those in small communities.

"I feel it is imperative to give back to the rural communities where we live," said the lifelong resident of southern Illinois, where she has practiced as a nurse, educator and administrator for 33 years. She was the driving force behind the University's partnership with the Illinois Critical Access Hospital Network (ICAHN), which makes McKendree's online RN-to-BSN and MSN degree programs available to the nursing staff at 53 hospitals statewide.

"Our partnerships provide coursework to nurses specifically based on the policy and practices of their particular organization," Rennegarbe explained. "Member nurses have a designated business faculty liaison, as well as a nursing faculty liaison, to assist them during their RN-to-BSN and MSN programs. These strategies have helped create an authentic, accessible, achievable and affordable nursing education."

She has helped McKendree establish similar partnerships with Southern Illinois Healthcare, BJC Healthcare, and Hardin Memorial Hospital in Kentucky. The former hospital CEO has mentored many nurse executives throughout the region and often serves as a leadership consultant to hospital boards.

As a professor and academic advisor, Rennegarbe works hard to engage her nursing students by offering frequent support and motivation. "I focus on really getting to know my students, especially in the online format," she said. "Establishing a positive relationship creates an atmosphere to foster their learning. When I respond to their posts and work, I refer to their specific organization or community. I ask that they share what is occurring in their organization and help them transfer what they learn to their specific practice. I record videos each week encouraging them and covering the highlights of what is occurring with the practice as it relates to the topic.

"Students are the focus of my teaching practice just as patients are the center of nurses' practice. I am committed to engaging students and providing them with the skills and education to be leaders within their nursing practice."

Rennegarbe accepted the Emerson Excellence in Teaching Award on November 16, 2014 during a ceremony at the Ritz-Carlton in St. Louis.

Learn more about McKendree University and the Nursing program.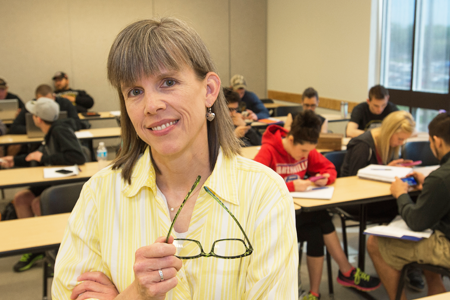 Dr. Ann Collins
Professor of Political Science

Ph.D., Political Science, Washington University
M.A., Political Science, Washington University
M.A., American and Latin American History, Louisiana State University
B.A., International Studies, Texas State University


Joined the McKendree faculty in 2007

Teaches courses in American politics, state and local government, and public policy

Research interests: American politics, collective violence, political history, race riots
Books: The Day Broke Hot and Somber: U.S. Race Riots in 1964 (forthcoming); All Hell Broke Loose: American Race Riots from the Progressive Era Through World War II (2012)

Developed the Virtual Center for Teaching Excellence

Initiated the Teaching Circles faculty feedback program

Leads a faculty book study group about teaching strategies
With a background in history and political science, Ann Collins ensures that her students place today's headlines in historical context. Her lectures and classroom discussions focus not only on political science theories but also on current events, so that students understand the relevance of politics and government in their lives and the world at large.

"American Politics lends itself to using the world as a laboratory," Collins said. "Inevitably every semester, numerous events take place that demonstrate the theories and ideas we are covering in class. In all of my classes, students must be engaged in the political news. Doing so promotes all aspects of McKendree's mission: responsible citizenship, engagement, academic excellence and lifelong learning."

A noted scholar on the history of 20th century race riots in America, she is finishing her second book, which analyzes riots that erupted in 1964, a year before the Watts rebellion in Los Angeles.

"The 1964 riots had similar features to what we saw unfold in places like Ferguson and Baltimore in 2014 and 2015—certain structural factors, such as demographic change and economic turmoil; cultural framing, including African Americans' assertions for equality and rights and white resistance to them (overt or otherwise); and a precipitating event, most often violent clashes between police and African Americans," Collins said.

Her latest book explores what effects the riots had on the major political and economic issues of 1964—implementation of the Civil Rights Act and the War on Poverty, as well as the Johnson vs. Goldwater presidential election. It concludes with a broader analysis of actions taken by local, state and federal officials to try to understand the violence, as well as an examination of the racial unrest that followed.

In addition to her teaching, writing and research, Collins moderates local political debates, organizes voter registration drives on campus, and responds to media inquiries on the subject of race riots.

Collins accepted the William Norman Grandy Award during the Undergraduate Commencement ceremony on May 9, 2015.

Learn more about McKendree University and the Political Science program.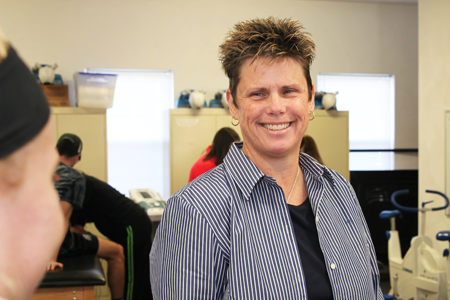 Dr. Dawn M. Hankins, ATC, LAT
Director of M.S. in Athletic Training

Ph.D., Education, Saint Louis University
M.S., Physical Education, Southern Illinois University - Carbondale
B.A., Physical Education, Coe College


Joined the McKendree faculty in 1997

Teaching interests: Aquatics, therapeutic modalities, rehabilitation and exercise physiology
Research interests: Student learning styles for didactic and clinical education in athletic training curriculum programs specifically related to the subject areas of immediate care, evaluation and diagnosis, emergency care and rehabilitation
Dawn Hankins is known for her hands-on approach to preparing athletic training majors for successful professional careers. Her teaching philosophy, she says, is influenced by Socrates and John Dewey—questioning, dialogue and critical thinking mixed with pragmatism.

"I'm a pragmatist at heart, which means students must learn by doing, whether it be learning clinical skills or building their cognitive knowledge base," she said. "Students often lack confidence about what knowledge they already have and often do not know how to use that knowledge to acquire a stronger and deeper understanding of the subject matter. I believe asking them questions and challenging their answers on a consistent basis stimulates their understanding of the material."

Hankins' current research explores Personality Temperament (True Colors) and Emotional Resilience on the first-time exam pass rate for the National Athletic Trainer's Board of Certification Exam. She uses personality temperament as part of the process in developing her coursework, including assignments and exams.

"Students in athletic training undergo quite a bit of testing in class and outside of class, which includes cognitive knowledge and clinical skill testing of evaluation skills for diagnosing injuries and conditions, performance of rehabilitation techniques such as exercise instruction, massage, and use of modalities, to name a few," she said. To support students' learning, she provides open lab time on a weekly basis where they can practice their clinical skills; scenario-based clinical exams test their performance.

Hankins oversees a discipline that has experienced tremendous growth in recent years, as athletic training has become one of McKendree University's most popular majors. Part of the reason, she believes, is "the role sports play in our culture, as well as the opportunity to work in different venues such as law enforcement, the military, industrial settings, Hollywood, car racing, and rodeo besides the traditional educational settings and professional sports settings."

Hankins accepted the United Methodist Church Exemplary Teaching Award during the Honors Convocation on April 23, 2015.

Learn more about McKendree University and the Athletic Training program.
Make It McKendree  Apply Today!