Employment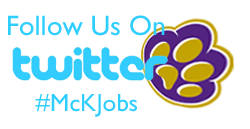 This page contains a listing of positions available at McKendree University. These postings reflect general job duties and minimum qualifications rather than comprehensive descriptions of positions. You must meet all of the minimum qualifications for the position(s) for which you are applying in order to be considered. Any unsolicited resume or related information that does not indicate application for a specific position vacancy will not be accepted, acknowledged, retained, or considered as a formal application. A separate resume is required for each position for which you wish to apply.
STAFF POSITIONS
Director of Annual Philanthropy and Alumni Engagement
Human Resources and Payroll Specialist
PART-TIME FACULTY POSITIONS.
Adjunct Faculty for Visual & Performing Arts - Three-Dimensional Design Instructor
Adjunct Faculty for Cybersecurity
Adjunct Faculty for MA in Clinical Mental Health Counseling
Adjunct Faculty for School of Business - Accounting and Finance Instructors
Adjunct Faculty for School of Business - General Business Courses Instructor
GRADUATE ASSISTANTSHIPS