McKendree University Makes the 'Great College to Work For' Honor Roll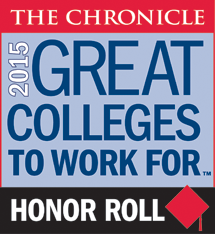 Among the 'Best of the Best' Says The Chronicle of Higher Education

(LEBANON, Ill., July 21, 2015) - McKendree University is not only one of the best institutions of higher education to work for, according the latest survey by The Chronicle of Higher Education - it again made the "Great College to Work For®" Honor Roll in seven categories. McKendree is one of 42 colleges and universities on the 2015 Honor Roll and the only Midwest institution of 10 in the medium-size category, based on enrollment of 3,000 to 9,999 students.

"These colleges are the best of the best," The Chronicle announced on chronicle.com. "Those that make the Honor Roll are cited most often across all recognition categories."

Results are based on a survey of nearly 44,000 employees at colleges and universities nationwide. In all, 86 institutions - 62 four-year and 24 two-year - achieved "Great College to Work For®" recognition for specific best practices and policies.

Institutions that stood out in this year's survey excelled in four areas: leadership, communication, alignment and respect. McKendree earned Honor Roll status by rating highly in seven of 12 categories. Faculty and staff members gave the university high marks for teaching environment, confidence in senior leadership, professional and career development programs, supervisor or department chair relationships, collaborative governance, job satisfaction, and tenure clarity and process.

"We are delighted to once again be honored as a 'Great College to Work For.' It is a testament to the quality of our faculty and staff and their ability to work toward the common goal of providing an excellent working and learning environment," said Dr. James Dennis, McKendree University president.

In eight years, the Great Colleges program has become one of the largest workplace-recognition programs in the country. Results are reported based on enrollment size for small, medium, and large institutions. Survey results are based on a two-part assessment process: an institutional audit that captured demographics and workplace policies from each institution; and a survey administered to full-time faculty, administrators and professional support staff. Employee feedback was the primary factor in determining "Great Colleges to Work For" recognition.

To administer the survey and analyze the results, The Chronicle worked with ModernThink LLC, a strategic human capital consulting firm that conducts numerous "Best Places to Work" programs nationwide. For more information and survey results, visit www.chronicle.com.
-McK-