McKendree is a Great College to Work For, Says Chronicle of Higher Ed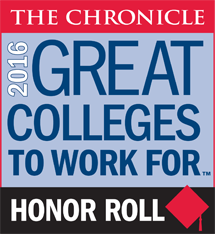 (LEBANON, Ill., July 18, 2016) - McKendree University stands out among the "Great Colleges to Work For" named by The Chronicle of Higher Education, a top trade publication for colleges and universities. The Chronicle's ninth annual Report on The Academic Workplace, released on July 18, is based on a survey of 281 colleges and universities. Ninety-three institutions achieved "Great College to Work For" recognition; of those, McKendree was among the 42 to earn Honor Roll status. Results are reported for small, medium and large institutions; McKendree is in the medium-size category of 3,000 to 9,999 total students. It has received the honor every year since 2010.

This year the university was honored in nine of 12 categories: collaborative governance, confidence in senior leadership, job satisfaction and support, professional and career development programs, respect and appreciation, supervisor or department chair relationship, teaching environment, tenure clarity and process, and work-life balance.

Employee feedback is the primary factor in determining "Great Colleges to Work For" recognition. Survey results are based on a two-part assessment process: an institutional audit that captured demographics and workplace policies from each institution; and a survey administered to full-time employees.

"Nine years in, The Chronicle's 'Great Colleges to Work For' program is well known as a mark of a college or university that puts thought and effort into serving the needs of its faculty and staff," said Liz McMillen, editor of The Chronicle. "The colleges and universities that make the list are highly rated by their employees for creating great working environments, an important achievement that helps them recruit top academic and administrative talent."

To administer the survey and analyze the results, The Chronicle worked with ModernThink LLC, a strategic human capital consulting firm that conducts numerous "Best Places to Work" programs nationwide. For more information, visit www.chronicle.com.
-McK-