Events
FALL EVENTS

Social Action & Community Service Retreat
This retreat is for all McKendree students interested in service, community building, and social justice. A portion of the retreat is used to build a sense of community among individuals interested in working with CCS. Other portions introduce service and social justice, helping students reflect on the purpose of their service and how systems interact with individuals served. Scholarship recipients are required to attend the retreat, but the retreat is open to all students.

Into the Streets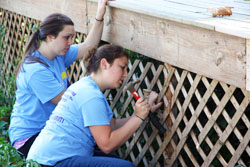 Into the Streets is a daylong volunteer project for all incoming freshmen and McKendree University. Each year we have approximately 450 participants and about 30 different service sites contribute to this experience. Students go to nearby agencies, such as Cedar Ridge Health and Rehabilitation Center, Lebanon Emerald Fire Department, and local churches in Lebanon to work on projects. 
Diaper Need Awareness Week
Diaper Need Awareness Week is the most important time to get involved in the critical work of the St. Louis Area Diaper Bank. Tens of thousands of St. Louis families are counting on us to make sure they have the diapers they need to keep their little ones clean and dry, happy and healthy. Coordinator: Kenzie Bemis, mackenzie.bemis17@mckendree.edu. 
Trick-or-Treat for Canned Goods
Trick or Treat for Canned Goods is a one-night event that collects non-perishable food for the Lebanon Food Pantry. Each participant is encouraged to dress in an appropriate costume. Students meet in the Hett parking lot and proceed in groups around Lebanon to literally "trick-or-treat" locally for food rather than candy. The event generally starts at about 2:30pm and lasts until 5:30pm at which time everyone is welcomed back for pizza and soda. 
Hunger & Homelessness Week
  Fashion Show
Check out some of your favorite faculty, staff and students while they strut the walkways of Ames Dining Hall sporting this season's latest. Student organizations are encouraged to support a faculty member. Each outfit is then donated to a local shelter as a full set. 
Canned Good Sculpture Contest
RSOs are invited to create a sculpture using only canned goods. A winner will be picked and the canned goods will be donated to the local food pantry. 
Think Inside the Box
During the event, students will get a better understand the hardships of homelessness by participating in activities which include making care bags, playing a trivia game, learning survival tricks and more.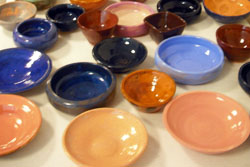 Empty Bowls Brown Bag
Come enjoy yummy soup and buy handmade ceramic bowls! This Brown Bag features a local service organization, with soup and ceramic bowls for $10.00 which are made by faculty members and the Art Club.
Service Saturday
Participate in a volunteer project on Saturday morning with your friends at a local organization that fights hunger and homelessness. 
More "Food" for Thought
Hunger is the physical sensation resulting from not having enough food to eat. More than 8.3 million Americans are hungry, including one in every three children. More than 3.5 million Americans experience homelessness each year, thirty-five percent of which are families with children and twenty-five percent of which are people under the age of 18.
Angel Tree
Angel Tree allows students to make a difference in an underprivileged child's life each Christmas. Students can pick up an angel from the trees in Piper, 1828, and the Hett lobby, and buy a present between $20-$25, and wrap it. Gifts are due wrapped to the Lyn Huxford Center for Community Service Office by 5:00pm the last day of the event. 
SPRING EVENTS


Martin Luther King Service Day
The Monday before classes start in the Spring, students join with New Horizon's Community Church in East St. Louis to celebrate a church service dedicated to Dr. King. They later work with members of the parish on community projects such as cleaning up the church grounds, organizing donations, and working at the community garden. The service projects are followed by lunch and fellowship with members of the church. 
Bunny Hop for Canned Goods
Bunny Hop is a one-night event that collects non-perishable food for the Lebanon Food Pantry. Each participant is encouraged to dress in an appropriate costume. Students meet in the Hett parking lot and proceed in groups around Lebanon to gather food. The event generally starts at about 2:30pm and lasts until 5:30pm. 
Global Awareness Week
Global Awareness Week is a collaborative effort from various campus groups started by Campus Ministry. The mission of this week is to increase campus awareness of issues related to politics, social justice, religion, ethnicity, economic disparity and other social and diversity topics locally, nationally, and internationally. The goal is to help develop our campus into better citizens and raise awareness of human dignity and world events. This is done through educational and experiential events such as presentations, simulations, films, service experiences, and a variety of other events planned by campus groups/classes and the committee. Groups around campus are encouraged to submit an event they would like to coordinate to the Chaplain. Examples of events can be experiences living internationally, educational events on issues facing a community, or social justice focused films with discussion.
Global Youth Service Day
Global Youth Service Day is a nation-wide annual event held in mid- to late April. McKendree students involved in the CCS, the McKendree football team, and Lebanon grade school students all gather at the Lebanon Grade School and do a large variety of separate service activities in the area (could be at nursing homes, parks, churches, schools, etc.).  
Earth Day
LHCCS coordinates with the Green Team on campus to complete a clean up project in the Lebanon Community. Coordinator:
End of the Year School Supply Drive

During the last month of school, LHCCS coordinates with Resident's life and Lebanon Matthew 25:40 Ministries to help collect unwanted school supplies. We put boxes in resident's halls, and send out information to campus to collect for pick up.  This event ensures reusable items are used to help children in the Lebanon community that can't afford school supplies.