About the University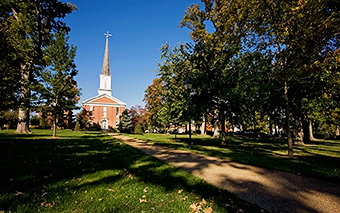 Nestled comfortably among the quiet streets and historic homes of Lebanon, the lofty steeple of Bothwell Chapel rises prominently above the outline of lush trees that dapple the campus of McKendree University.

A simple, yet stately herald of higher education, the chapel stands as a symbol of the institution's rich history and continued reputation for excellent academics.

More about McKendree University
Quick Facts
Founded in 1828 by pioneer Methodist circuit riders

Historic Lebanon, Ill., campus is 25 miles from St. Louis

Classes offered in Radcliff, Ky., at Scott Air Force Base and online via McKendree Worldwide

U.S. News, Top Midwest Regional Universities for 2020; also:
Best Value Schools
Best Colleges for Veterans
Among top for advancing social mobility
Best Online Programs list for online MBA, education and nursing master's degrees
College of Distinction
America's 100 Best College Buys
Military Friendly School (Victory Media)


Offers +50 undergraduate majors

Graduate degree programs in education, clinical mental health counseling, business administration, nursing and criminal justice

Average faculty-to-student ratio is 14:1
Mission: To provide a high quality educational experience to outstanding students.
Academic mission is R-E-A-L:
Responsible Citizenship, Engagement, Academic Excellence, Lifelong Learning


Accredited by the Higher Learning Commission
The Hettenhausen Center for the Arts is southern Illinois' premier performing arts venue
Bearcats compete in NCAA Division II athletics
Recent Highlights
As Fulbright Scholars, Naeelah Chism '19 was chosen for a 10-month English teaching assistant position in Kuala Lumpur, Malaysia, while and Dr. Darryn Diuguid studied education in Vietnam for a semester.

Andrew Wagner '19 was selected for a highly competitive, one-year paid fellowship teaching English at Technos International College in Tokyo.

Gilman Scholars have studied abroad in Morocco, Argentina and Ireland in recent years.

Angie Thomas, author of the bestselling novel "The Hate U Give," spoke about "Finding Your Activism and Turning the Political into the Personal" at the 2019 MLK Awards event.

Telligen Community Initiative awarded a grant of almost $50K to support an innovative new population health track in the MSN online degree program.

McKendree was designated a "Voter-Friendly Campus" for its participation in the ALL-IN Campus Democracy Challenge, National Voter Registration Day and Constitution Day. The Hett Center is now a polling place for three local precincts.

A hypothetical stock portfolio chosen by an investment class outperformed those of other schools over three years to win the $10,000 top prize in the St. Louis Area Stock Contest.

The men's bowling team finished in third place and the women's team finished as national runner-up at the Intercollegiate Team Championships in April 2019. Breanna Clemmer became the first women's bowler in Bearcats history to win an Intercollegiate Singles Championship title and was also the 2018-19 National Tenpin Coaches Association Division II/III Player of the Year.

Women's wrestlers Alexandria Glaude and Destane Garrick each captured their first national title in their respective weight classes and Felicity Taylor and Brenda Reyna finished as national runner-ups.

DeMontez McCray, Quincy McSweeney, and Tsitsi Mahachi earned second-team All-American honors at the NCAA Division II Indoor Track and Field National Championships. Tsitsi finished tenth in the triple jump at the NCAA Division II Outdoor Track and Field National Championships, garnering another second-team All-American nod.

The men's and women's swimming and diving teams finished eighth and 40th at the NCAA Division II National Championships, capturing 15 All-American and 14 All-American Honorable Mention awards, led by Alexander Skinner with six All-American awards.

More about Student Awards