Twice as Nice!

THE WOMEN'S BOWLING TEAM CAPTURED TWO NATIONAL CHAMPIONSHIPS IN ONE WEEK.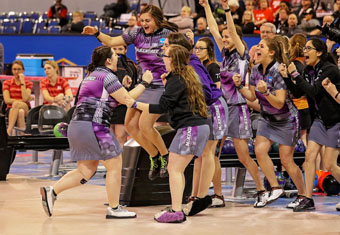 On April 16, they won their first-ever NCAA Women's Bowling National Championship at the Raising Cane's River Center in Baton Rouge, LA., by sweeping five-time NCAA champion University of Nebraska. Just seven days later, they battled to a 3–2 victory over Webber International University in the title match of the 2017 United States Bowling Congress Intercollegiate Team Championships (ITC) in the same facility in Baton Rouge.

Winning dual national championships is no small accomplishment and McKendree's run was one for the history books. The Bearcats are the first NCAA Division II program to win the championship since the organization started sponsoring the sport in 2004, first team to sweep the finals in the 14-year history of the event, and first McKendree team to win a NCAA National Championship in any sport. They are also the second women's team to execute the NCAA-ITC double, joining Maryland-Eastern Shore, who did it in 2011.

"This was a history-making feat not only for our ladies and program, but for McKendree as a whole," said Head Coach Shannon O'Keefe. "It was an incredible experience and I was blessed to be a part of it."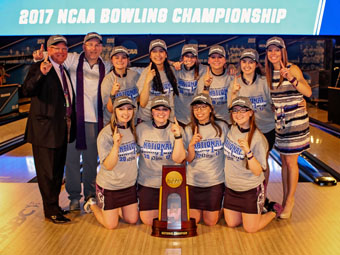 At the NCAA tournament, McKendree earned the top seed in the eight-team field after seven games of qualifying play. The only team to go undefeated in the double-elimination bracket, they earned their spot in the championship match against the University of Nebraska after holding off Sam Houston State in the semifinals, 4–3. Televised live on ESPNU, the Bearcats were strong out of the gate as they won 182–169 in the first game and cruised to a 244–192 win behind the bowling of Junior Team USA member Jessica Mellott in the second game. Coming up with late strikes, the women pulled out a 224–212 victory to go up 3–0. In the final game, Junior Team USA member and NTCA All-american Lauren Pate took advantage of an open frame by Nebraska as she collected a spare in the 8th frame to put McKendree on top. Junior Team USA member and NTCA All-american Breanna Clemmer threw two strikes in the 10th frame to close out the 240–226 victory and finish off the sweep, 4–0.

"It feels great being able to make history," said NTCA All-american Sarah Wille. "It was great to bring home the first NCAA title for the school and to get the first sweep. No one else will ever be able to say they were the first."

In their 13th consecutive appearance at the ITC tournament, the 4th ranked bearcats won four out of five matches in the double-elimination bracket to advance to the championship final against reigning national champion Webber International. The finals once again came down to the 10th frame of the fifth game. A mark by freshman Taylor Bailey enabled McKendree to carry an 11-pin lead going into the 10th frame. In the anchor position, Breanna threw a strike and a spare to close out the game at 159-147 and give McKendree its first ITC national title.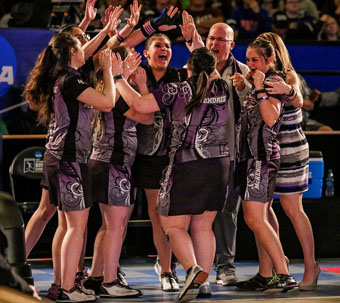 "I was obviously very nervous but knew my girls would have my back regardless of the outcome," Breanna said. "Whether I struck or split, we would still leave as champions, and that's what we wanted to come here and do. This run has been unbelievable. It feels great, and I don't think this feeling will ever go away."

Breanna had an unbelievable season, resulting in being named the NTCA Division II/III Player and Rookie of the Year and MIAA Bowler and Freshman of the Year. She was honored as the NCAA Tournament's most valuable player and was named to the NCAA All-tournament team along with Taylor, who also earned ITC All-tournament team honors. Breanna and Jessica also qualified for the Intercollegiate Singles Championship. Nine players competed in Baton Rouge, including Breanna, Taylor, Jessica, Lauren, Sarah, junior Nicole Fung Calleja, and sophomores Christie Draper, Ashley Dunn and Ashley Hathaway.

Led by Shannon and her husband, Bryan O'Keefe, the Bearcats are a talented young team with no seniors and unparalleled leadership. Shannon is a six-time world champion, 13-time member of Team USA and women's professional bowler. Bryan is McKendree's director of bowling, Junior Team USA head coach and former Team USA assistant coach.

"There is definitely something special about this team, especially with them being so young," said Shannon. "As a parent of my girls, because that's how I feel, I don't think I could be more proud. To see their dreams come true and know we had a little piece of that is an incredible feeling."