50 Years, Milestones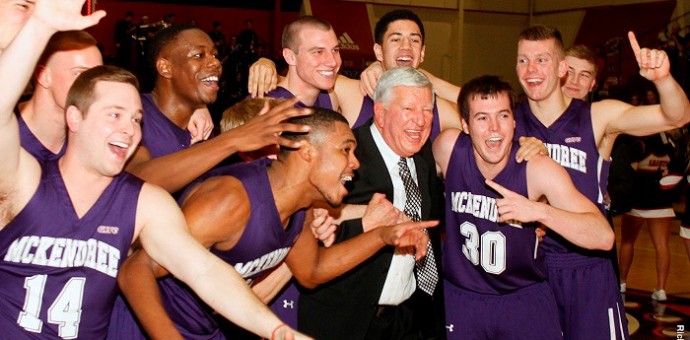 1. Began coaching career at O'Fallon Junior High School in 1957, while a student at McKendree.


2. Earned a master's degree in physical education from the University of Illinois in Champaign, Ill., where he served as a graduate assistant for the men's basketball team.


3. Spent five seasons coaching varsity boys' basketball at Manito Forman High School in Manito, Ill. and Dwight High School in Dwight, Ill.


4. Coached his first college game on Nov. 18, 1966 with McKendree beating Westminster College, 90-78.


5. Finished first season in 1966–67 with a 13-10 record.


6. Served as McKendree's athletic director from 1966 until May 2010.


7. Won his 100th game against Lambuth College, 69-65 in 1971–72.


8. In 1986–1987 season, McKendree led the nation in scoring with a 104-point per game average.


9. Inducted into the IBCA-NAIA Hall of Fame in 1987.


10. Appeared in first NAIA Tournament in 1988.


11. The University's gymnasium, the Harry M. Statham Sports Center, was named for him in 1988.


12. In first round of the 1988 NAIA Tournament, McKendree and Huron College scored a combined 231 points to set an NAIA Tournament record that stood until 2006.


13. Won 500th game on Nov. 18, 1990 against Harris-Stowe State College, 96-76.


14. Reached quarterfinals in the NAIA Tournament in 1997.


15. Won 700th game on Jan. 10, 1998 against Barat College, 99-61.


16. Inducted into the NAIA Hall of Fame in 1998.


17. Honored as the NAIA Central Region Athletic Director of the Year by the National Association of Collegiate Directors of Athletics in 1998–99.


18. Selected as the 2001–02 national NAIA Men's Basketball Coach of the Year.


19. Guided the Bearcats to an 88-87 victory against Mountain State on Nov. 15, 2002, making him the NAIA's all-time leader in career victories with career win No. 817.


20. Went undefeated for the first time in league play with a 10-0 record in the AMC in 2002–03.


21. Earned first No. 1 national ranking in the NAIA poll in 2002–03.


22. Posted three victories on way to a Fab Four berth in the NAIA Tournament in 2003.


23. Won 880th game on Dec. 1, 2004, passing University of North Carolina Coach Dean Smith for all-time wins among men's college basketball coaches at the four-year level.


24. Awarded the National Association of Basketball Coaches Guardians of the Game Leadership Award in 2005.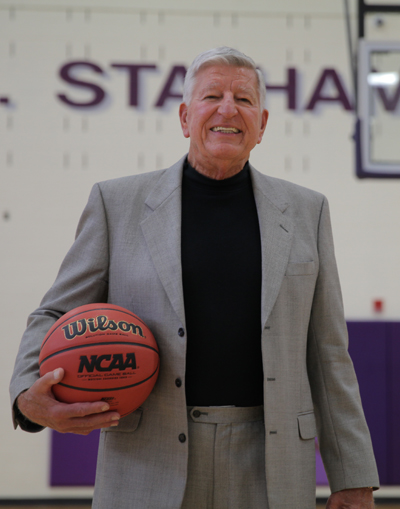 25. Received the Distinguished Service Award from the United States Sports Academy in 2005.


26. Reached the 900-win mark by defeating Freed-Hardeman University 73-69 on Nov. 25, 2005.


27. Honored by Lebanon City Council in 2006 with the renaming of a portion of Alton Street to Harry Statham Way.


28. Coached his 1,355th game on Dec. 16, 2008, surpassing former Mt. St. Mary coach Jim Phelan for the most games coached.


29. Went undefeated in AMC league play with a 14-0 record in 2008-09.


30. Reached the Elite 8 in the 2009 NAIA Tournament.


31. Collected 1,000th career win with a 79-49 victory over East-West University on Nov. 13, 2009.


32. One of just five college basketball coaches at the four-year level to reach the 1,000-win mark, including Pat Summitt (University of Tennessee), Mike Krzyzewski (Duke), Danny Miles (Oregon Institute of Technology) and Herb Magee (Philadelphia University).


33. Named to the NAIA 75th Anniversary All-Star Team on March 7, 2012.


34. Fifteen commemorative basketballs, one for each appearance in the NAIA national tournament, line a shelf in his office.


35. Won 12 AMC championships.


36. Teams have advanced to post-season play 41 times.


37. Received AMC Coach of the Year award eight times.


38. Teams have won 20 or more games in a season 35 times.


39. Named NAIA Division Coach of the Year 18 times—6 NAIA District 20 and 12 IBCA-NAIA.


40. Coached 71 different players that have received post-season accolades, including ten first-team NAIA All-American honorees and seven AMC Player of the Year honorees.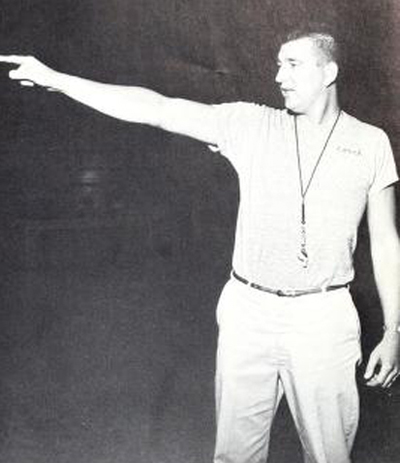 41. Coached three players who were drafted—Paul Funkhouser, a supplemental draft pick of the NBA's Chicago Bulls and ABA's Carolina Cougars; Dale Haverman, a fifth round pick of the Seattle Sonics; and Matt Laur, a fourth-round pick by the Columbus Riverdragons of the NBA's Developmental League.


42. Joined NCAA Division II and the Great Lakes Valley Conference in 2012–13.


43. Inducted into the McKendree Sports Hall of Fame in 2012.


44. Coached 1,500th career game at home on Feb. 21, 2013 against Kentucky Wesleyan College.


45. Inducted into the St. Louis Sports Hall of Fame in 2014.


46. Tied all-time wins record (1,098 wins) with Pat Summitt on Jan. 28, 2016, with 92-85 triumph over University of Wisconsin-Parkside.


47. Became all-time wins leader at the four-year level with 1,099th career victory on Feb. 6, 2016 over Maryville University, 92-84.


48. Reached the 1,100th career win mark on Feb. 11, 2016 thanks to a come-from-behind, 108-105 win against Missouri S&T.


49. Qualified for the GLVC tournament for the first time in 2016.


50. Currently has coached 1,581 games and has 1,101 wins.



In 1966–67, the Philadelphia 76ers won the NBA championship title, the first Super Bowl game was played, gas was 32 cents and Harry Statham '60 coached his first season of men's basketball at McKendree. The 78-year-old coach has enjoyed countless milestone moments at the helm of the Bearcats and solidified his place in college basketball history on Feb. 11, 2016 by winning his 1,100th game, the most victories by a coach at a four-year school. Watch his tribute video at McKendree.edu/1100.