A Go-To Guide for Newly Admitted Bearcats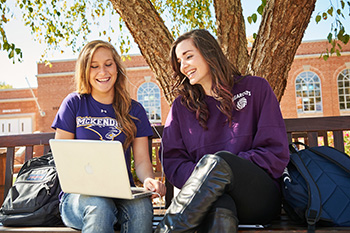 If you're a newly admitted Bearcat, first off, congratulations! We're so excited to welcome you into the McKendree family and community. Now that you've been admitted, you may be wondering, what's next? Look no further! We've created a go-to guide with a compilation of your next steps: 

See Your Application Portal 

The first step is hopping online to your application portal. When you visit the portal, you will find your admission decision letter ready to access and download. We know it's a big decision, but we hope you will choose to become a Bearcat. 

Visit Campus 

At McKendree, the possibilities and opportunities for your future are endless. Come and visit campus to see your great potential. You can schedule a visit, even after you've been admitted, to see first-hand the ins and outs of campus life before making a big leap into your future. 

Set up Your McK Account 

To stay up to date and receive important information, be sure to activate your My McK account. Before activation, check your Enrollment Confirmation Form you received with your admission packet to find your Student ID. Once you've located your ID, you'll be on your way to activating your account and one step closer to officially becoming a Bearcat! 

Complete the Financial & Medical Information Checklist: 

Prior to your exciting moving day, there are a few financial and medical tasks to complete. Ensure that you have completed the following within their noted deadlines: 


Sign and return your enrollment confirmation form.

Submit your deposits

Apply for available aid: FAFSA, academic scholarships and other scholarship opportunities. 

Complete and turn in your required medical forms to Health Services by August 1st.

Send your final high school, dual-credit courses, and other college credit transcripts to the Office of Admission.
Select Housing 

One of the most exciting steps is choosing your future home on campus. We will give you a tip—fill your housing application out as early as possible to get your first-choice pick! You can find the application on February 1st in your newly activated student portal if you've already submitted your deposit. Before submitting your application, view the many housing options to decide what will be the best fit for you. As always, if you have any questions or concerns, Residence Life is there to help! 

Making a Smooth Transition  

For a smooth transition to McKendree, sign up for the First-Year Introduction program designed to help you acclimate and to set you up for success during your time here. Afterwards, it's essential to attend New Student Orientation where you will have the opportunity to meet your fellow peers, professors, and potentially a new best friend.  

With just a few simple steps, you'll be on your way to your new Bearcat beginning. Congratulations on your admission and welcome to McKendree. We can't wait to see how you will make your mark!  

For more information, see our final steps.