McKendree Cheerleaders, Dance Team Win Trophies at NCA-NDA Nationals
(LEBANON, Ill., April 24, 2017) - McKendree University's spirit squad brought home three trophies from the National Collegiate Cheer and Dance Championship held in Daytona Beach, Fla., April 4-8. The competition was hosted by the National Cheerleaders Association (NCA) and the National Dance Alliance (NDA).

The Bearcats' purple and gold teams took third place in the small coed cheer and intermediate small coed cheer categories among Division II schools. Both teams previously won their divisions at camp, earning them two silver bids to the 2017 NCA nationals. Coach Bob Oeth, a 2014 McKendree graduate, helped lead the squad as a student member in 2013 and 2014, and as an assistant in 2015 and 2016.

In its debut at NCA-NDA nationals, the dance team finished finals in seventh place to earn the first trophy for competitive dance at McKendree. The dancers qualified for finals at its preliminary competition with their Team Performance routine, a combination of jazz, hip-hop and pom.

"It's so amazing because we were only expecting to go for the experience this season," said Coach Sara Miller. "It was a great way to end our first season."

Cheerleaders are Courtney Alli, Taylor Alzate, Mikayla Atchison, Sarah Banning, BARNETT, Karlee Barnett, Tatum Bray, Erynn Cotter, Dyamond Dailey, Matt DeJesus, Carollyn Dinh, Haley Doersam, Zac Drumwright (mascot), Taylor Dubose-Harris, Taiylor Gossage, Robert Hankins, Mariah Harrison, Chase Haselhorst, Alexandria Jasso, Samantha Kassen, Autumn Kolesa, Jacob Lawyer, Olivia Mauer, Andria McLaughlin, Sydney Miller, Zach Mittman, Mackenzie Munie, Kaylee Murry, Makayla Penrod, Bella Perkins, Megan Porter, Andy Rettke, Cheyenne Reynolds, China Rongey, Cheyenne Stock, Adam Strubhart, Bryanna Swisher, Kristyn Tully and Dezrea Vance.

Dance team members are seniors Stephanie Lake and Madelaine Zinser; junior Paige Allan; sophomores Kenzie Auten, Alexis Druse and Katie Kiernan; and first-years Olivia Daylor and Lori Tretter.
-McK-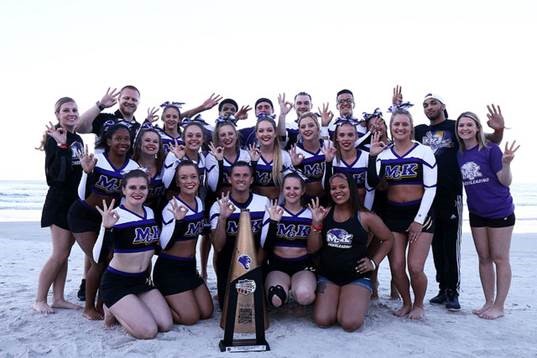 McKendree University Cheerleaders, Purple Team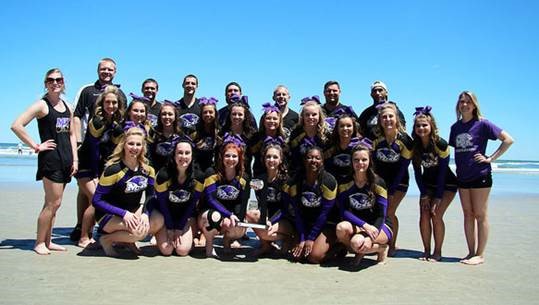 McKendree University Cheerleaders, Gold Team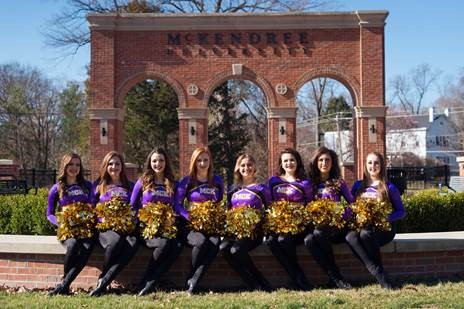 McKendree University Dance Team