Michael Louison, Ph.D.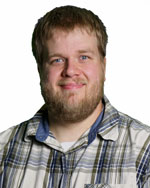 Assistant Professor of Biology
Office: Voigt Science Hall 217
Phone: (618) 537-6096

Education

Ph.D., Natural Resources and Environmental Sciences, University of Illinois at Urbana-Champaign (2018)
M.S., Biology, University of Wisconsin-Oshkosk (2013)
B.A., Biology, Ripon College (2007)
Teaching Interests

Animal Behavior
Fisheries Conservation
Contemporary Evolution of Animals
Physiological Response of Animals to their Environment
Publications

Louison, M.J., Jeffrey, J.D., Suski, C.D., and J.A. Stein (2018).  Sociable bluegill (Lepomis macrochirus) are selectively captured by recreational anglers.  Animal Behaviour 142: 129-137.

Louison, M.J., Stein, J.A., and C.D. Suski (2018, in press).  Metabolic phenotype is not associated with vulnerability to angling in bluegill sunfish.  Canadian Journal of Zoology.

Louison, M.J., Adhikari, S., Stein, J.A., and C.D. Suski (2017).  Hormonal responsiveness to stress is negatively associated with vulnerability to angling capture in fish. Journal of Experimental Biology 220(14): 2529-2535.

Louison, M.J., Hasler, C.T., Raby, G.D., Suski, C.D., and J.A. Stein (2017).  Chill out: Physiological responses to winter ice-angling in two temperate freshwater fishes.  Conservation Physiology 5(1): cox027.

Louison, M.J., Hasler, C.T., Fenske, M.M., Suski, C.D., and J.A. Stein (2017).  Physiological Effects of ice-angling   capture and handling on northern pike, Esox lucius.  Fisheries Management and Ecology 24(1): 10-

Louison, M.J., and R.S. Stelzer (2016).  Use of first-order tributaries by brown trout (Salmo trutta) as nursery habitat in a coldwater stream network.  Ecology of Freshwater Fish 25(1): 133-140.
Teaching Philosophy
I think the term that defines my teaching approach best is accessibility.  I believe in working personally with students, and being quick to respond to questions and needs.  While I have office hours posted, my door is always open for any student to talk about class, or discuss potential independent research opportunities.  Ultimately, while college classes have a lot of terminology and verbage to understand, I always look to connect the themes of class to things that are actually happening in our environment today.
Organizations & Memberships

Animal Behavior Society
American Fisheries Society