Creative Writing Minor
Creative writers build worlds with words. McKendree's creative writing classes in poetry and fiction will increase your confidence and ability by expanding your ideas about writing, sharpening your technique, and providing eager classroom audiences for your work. Studying creative writing allows you to develop your literary voice and express your imagination. Expect discovery, surprise, and growing confidence in your work.



Program Highlights
• Involvement in producing the Catalyst student literary magazine
• Participation in campus readings and literary events
• Opportunities to publish your creative writing in Catalyst

• Directed studies and consultation on publishing standards

Employment

Creative writing stresses skills in language, communication, and invention. Employers look for these abilities in a wide range of jobs requiring strong writing skills, and creativity is a strong way to stand out in any workforce. Many creative writers find work in publishing, media, or education. Creative writing students with majors in technical and communications fields develop unique abilities to help develop satisfying careers. There's always the chance that you'll hit it big writing a top-selling novel, of course, but in the meantime, the minor demonstrates your special gift for capturing and holding attention with words. Employers value this skill in many fields.
Key Faculty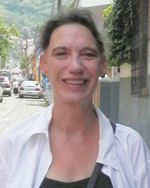 Jenny Mueller, Ph.D.
Professor
Carnegie Hall 215
(618) 537-6459