Jenny Mueller, Ph.D.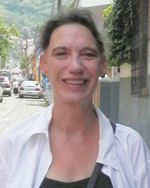 Professor of English
Office: Carnegie Hall 215
Phone: (618) 537-6459

Education

Ph.D., University of Utah
M.F.A., University of Iowa
M.A., University of Chicago
B.A., University of Chicago

Publications

Work in Progress
Currently working on a third book of poetry.

Books of Poetry
State Park (Elixir Press, 2017)
Bonneville (Elixir Press, 2007)
Found Land (chapbook, Slim Princess Holdings, 2015)
Diorama (chapbook, Polyphemus Press, 1999)
Journal Publications
I have published poetry in numerous magazines and journals, including Atlantic Monthly, Denver Quarterly, Chicago Review, Fence, Interim, New American Writing, Connotation Press: An Online Artifact, and others.


Teaching Interests

Creative writing (poetry, fiction, creative nonfiction)
20th-century American and English poetry
Advisor to Montage (McKendree student literary magazine)

Teaching Philosophy

In teaching literature and creative writing, what's most important to me is to help students understand how much of the great literature they study is really just the hard and messy process of writing. Writers, even those writers history has deemed "great," do not just put what is in their brilliant heads down on paper; they have to sort their ways through language. The ideas, the characters, and the images emerge from the words, not the other way around. (There's no better way to learn this than to try it yourself, in a creative writing class!)

Awards


Writer's residency, Banff Centre for the Arts, Banff, Alberta, Canada (2017)
Writer's residency, PLAYA, Summer Lake, OR (2017)
Writer's residency, Alderworks Alaska, Dyea, AK (2016)
Writer's residency, 360 Xochi Quetzal, Chapala, Mexico (2015)
2008 Literary Award, Illinois Arts Council

Organizations & Memberships

Association of Writers and Writing Programs, Modern Language Association
St. Louis Poetry Center

Other Information

I serve as the contact person for my mother, the poet Lisel Mueller, and am currently working on collecting and editing her unpublished work. I have also edited posthumously published work by the poet Brian Young.