Preview of Champions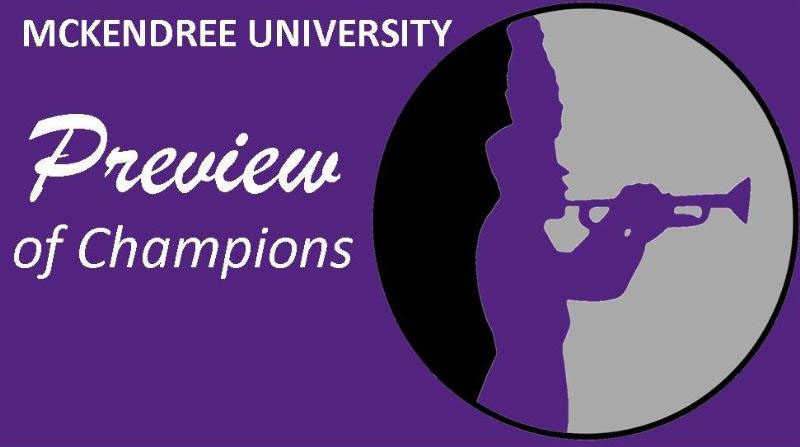 Saturday, October 1, 2016
Held at McKendree University's Leemon Field

Event Ticket Information

$8 – Adults 14 and up (includes program)
$6 – Children ages 7-13 (does not include program)
Free – Children 6 and under

...All tickets will be sold at the main entrance to Leemon Field...

Event Concessions

A concession stand will be available for the entire show. Drinks, snacks, candy, and a variety of foods will be available for a very reasonable price. All proceeds will help fun the McKendree University Department of Music's "Music In Our Schools" Educational Series, in which the Preview of Champions is a part of. We thank you for your support!

The 2014 Participating Bands
Will be announced 1 month prior to the competition.
The 2014 Adjudication Panel
Information coming next year.
Music Ensemble:
Music Ensemble:
Marching:
Marching:
General Effect Music:
General Effect Visual:
Color Guard:
Percussion:
Brass and Percussion Clinician:
Brass and Percussion Clinician:
Color Guard Clinician:
Color Guard Clinician:
Information for Participating Directors

We offer following for attending bands:

• Lighted Game Day Turf Field

• Bands perform based on number of instrumentalists

• Awards for 1st, 2nd, 3rd place in each class and Grand Champion Award

• Caption awards to include: Outstand Percussion, Color Guard, Visual Presentation, and Wind Performance

• Video review immediately after each bands' performance

• Clinician comments immediately after each band's performance

• Indoor Director and Staff hospitality room overlooking the field

• Concessions will be available for purchase

Step #1 – Complete a registration form
Step #2 – Turn in a payment request to your Business Office or Principal
Step #3 - Please contact your principal or business office to secure a Certificate of Insurance listing McKendree University as an additional insured. This is a very simple process for you to complete. It is our understanding that more and more educational institutions will be requiring a COI in the future when you attend events at their schools. Thanks!
Step #4 – Verify your final numbers in the marching band (this information will be e-mailed to you approximately one month prior to the show).
Step #5 - Please return a Clinician Information Form the week of the show (we will send you a reminder in your final information packet).