Ask a Librarian Options
Holman Library offers research and information services online, in person, by email and telephone. Please select the method that best meets your needs from the list below. Keep in mind that face-to-face and phone responses typically produce the most satisfying results.

 Holman Mobile

If you have a mobile device, then you can now use our mobile version to the library website. Search for items, make interlibrary loan requests, schedule instruction for your class, or view one of our many tutorials from your phone or other device. Just scan the QR code above or click here to begin using Holman Mobile.
Text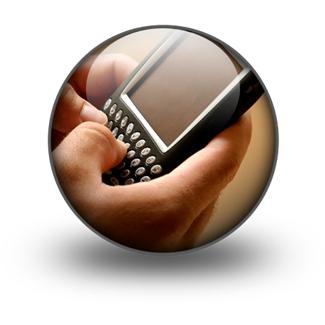 Library assistance is now available through text messaging.  Just text your question or comment to (618) 767-6634 for assistance Monday through Friday from 9 A.M. to 5 P.M. Central Time.  Any texts received before opening or after closing hours will be responded to the following business day.  If you require immediate assistance, consider using the 24/7 AskAway service located below.

Instant Message with AskHolmanLibrary

Use Holman Library's Instant Message Service to contact Holman Library with your questions Monday through Friday from 9 A.M. to 5 P.M. Central Time. The types of questions best suited for this service include the following:

What time do you close today?
How do I find books that will help with my homework assignment?
Can I check out Reserve Items?
Where do I find information on interlibrary loan on your website?
What time does the bookstore close today?

NOTE:  If you leave a message during our non-scheduled hours, then please provide your contact information, so that we can assist you when we return. Try using our 24/7 AskAway Illinois service for alternative assistance.

In Person
Library assistance is available MONDAY - FRIDAY, 9 A.M. to 5 P.M. Central Time.

Telephone

Reference assistance is available by telephone. Please call the Holman Library Reference Desk at (618) 537-6952.

Virtual Meeting Room: Blackboard Collaborate

Need to come see us but the distance, the time, or both are preventing you? Set up a time to meet with us in one of our virtual meeting rooms. Online rooms accommodate groups and individuals while providing the ability to share desktops and demonstrate databases over the internet. Just contact us to let us know if you would like to set up a meeting and we will join you there.  Instructors, please use the link that was emailed to you for virtual instruction and not the link below.  If you have any questions, please feel free to contact the Research Services Librarian, Paula Martin, by phone at 618.537.6952 or by email at phmartin@mckendree.edu.

Click this link to enter the virtual meeting room.

Live Help 24/7 from AskAway Illinois
Ask?Away Illinois an Internet-based reference service that allows information seekers to interact online and in real time with a skilled librarian.  The service is available 24 hours a day, seven days a week.  Reference librarians from public, academic, school, medical, and other special libraries in Illinois staff the service in collaboration with librarians across the U.S. for peak time and after-hour support when Illinois libraries are closed.