PLAN OVERVIEW: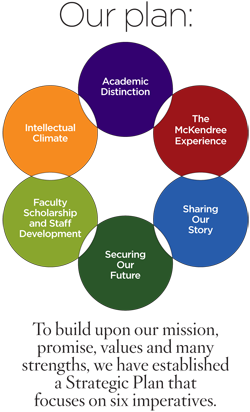 FROM THE PRESIDENT:

McKendree University has a rich history and venerable foundation which has served it for nearly two centuries. One of our abiding strengths has been our ability to dream about the future, develop plans to achieve our aspirations, and then to execute those plans which have for 185 years fulfilled our promise as a University.

In 2011, we initiated a collaborative effort with The Board of Trustees, seeking input from our many stakeholders to develop a blueprint to guide our University through the next five years. This is a summary of the new plan to define our direction and allocate the resources necessary to achieve our goals. As you read about these specific objectives, you will meet some of the McKendreans that exemplify these ideals.

This is who we are. These are our values. It is an exciting, transformative time for our University. We know what we want to accomplish in the next five years. The McKendree University Strategic Plan gives direction to our vision—a bold vision for a bright future.

DR. JAMES M. DENNIS
PRESIDENT, McKENDREE UNIVERSITY

Our Mission:
---
To provide a high quality educational experience to outstanding students. We guide our students in the pursuit of academic excellence, which will prepare them for leadership roles in our society. To achieve this end we encourage broader vision, enriched purpose, engagement with community, commitment to responsible citizenship, openness to new ideas and dedication to lifelong learning.


Our R-E-A-L Purpose:
---
To prepare students to value and exhibit Responsible Citizenship, Engagement, Academic Excellence and Lifelong Learning.


Our Promise:
---
To provide students an exceptional, personalized education in a vibrant and engaging academic community.


Our Values:

---
We are a values-based institution. We believe the best way to teach values is to model service, generosity, respect and acceptance through our behavior.


We value students as individuals. We encourage open dialogue, free inquiry and mutual respect among students from diverse backgrounds.


We value a holistic education. We nurture the development of the whole person—mind, body and spirit. We offer educational opportunities that develop our students' intellect, analytical abilities, research capabilities, creativity and sense of identity. We cherish our historical relationship with the United Methodist Church.


We value experiential and engaged learning. We encourage students to learn by doing, to study abroad, to take part in community service and to engage in our rich co-curricular programs.


We value our community. We expect the members of our community to treat each other with mutual respect in all aspects of campus life. We strive to be good stewards of our students as we seek to weave them into our community. We want our students to be members of the "McKendree family."