SECURING OUR FUTURE:

Dan '81 & Mickey '81 Dobbins
At 6 feet 8 inches, Dan Dobbins towers nearly a foot-and-a-half over his petite wife, Mickey. He is a thoughtful man who thinks before he speaks. She is a never-met-a-stranger delight, telling story after story–many of which make her husband blush.

"You know how they say couples 'who have been together a long time start to look alike?'" said Mickey, widening her expressive brown eyes. "Well, we've been together 31 years but no one is ever going to say that about us."

What they will say is that the Dobbins' are givers. They give back to their community. And they credit McKendree University for bringing them together and preparing them for life.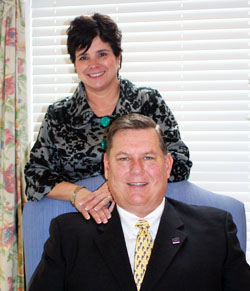 The Dobbins' story began in the late '70s, when both were undergraduates. "You might say we dated because she had a car," Dan said, grinning at his wife. "Not really. We just had a lot of fun together. I was on the basketball team and we had our away games on Saturday night. I'd get home late but I'd get up the next morning to go to Mass with Mickey and her parents. They lived in Lebanon so I'd go home with them and nap on their couch."

The college sweethearts graduated in May 1981, exchanging wedding vows the following Halloween. Mickey got a job in McKendree's admissions office, while Dan worked as an accountant and pursued his CPA and MBA. Little did they know he would one day be President of the University's Alumni Association before serving in his current position as Chair of the Board of Trustees.

The couple made their first financial gift to their alma mater the year after they graduated. They have donated generously every year since. 

"Philanthropy wasn't part of our DNA," said Dan, who is president of an Indiana-based company. "McKendree was something special to us. We wanted to support the school because it meant so much to us in so many ways."

It meant fond memories, inspirational instructors and coaches, and great educations. For Mickey, it also meant over a decade of employment.

Over the years, she held various positions at the University, including marketing director and director of admissions. "I got to know so many wonderful students," she recalled. "You'd get to watch them grow from scared kids–many afraid to be away from home for the first time–into amazing adults." 

She was extremely dedicated to her job.

"I went into labor the night before McKendree's Presidential Scholarship competition," Mickey recalled. "That's a pretty big day for the University and I didn't want to miss it. I had to be at work at 8 a.m. on Saturday morning, so at 6 a.m. I called, saying, 'I'll probably be a little late but I'll get there as soon as I can.'"

She never made it. The couple's daughter, Allison, now 24, was born that afternoon.

"Because of her work in admissions, Mickey was always passionate about scholarship funds," Dan said. "I was always passionate about academics and athletics. We feel privileged to help the next generation. We get to see, participate in and be part of the success stories that McKendree creates."

Giving back is a good feeling. "We want to encourage people, if they can, to make a gift to the University," Mickey said. "It doesn't have to be a large gift. Anything you give will make a difference."

"We're at an age where we're thinking about our estate planning," Dan added. "Making a legacy gift is a way to benefit the University."

Securing McKendree's future has a ripple effect.

"Dan has always said that anything you do to enhance the reputation of your school works for you as an alum as well," Mickey said, proudly. "It makes your degree all the more valuable."