Use of Student Learning Evidence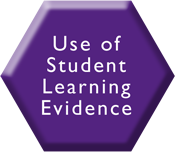 At McKendree University, we are committed to gathering assessment data and using the data, what we call "Closing the Loop." Our Closing the Loop logo is a spiral because we view the assessment process as an ongoing cycle that keeps refining, growing, and changing.
Use of Evidence for INSTITUTIONAL OUTCOMES:
Primary Tool
 

Selected Examples for Use of Student Learning Evidence


NSSE

Launched the Make Your Mark Faculty Boot Camp.

Developed student and faculty engagement grants.

Launched the Academic Excellence Celebration.

Identified capstone courses in catalog.

Renovated four spaces to create active learning classrooms.

Graduation Exit Survey

Hired full-time coordinator for the Lyn Huxford Center for Community Service.

Conducted voter registration on campus.

Identified service opportunities in catalog.

Joined the All-in Campus Democracy Challenge.

Diverse Perspectives Rubric

Identified ways to increase diversity in campus programing (e.g., the Hett, CAB, Brown Bags, etc.).

Established Social Justice and Equity Committee.

Encouraged study abroad opportunities.

Launched Connection Groups and SJEC Conversation series.

Communication Rubrics

Made director of the Writing Center a full-time staff member.

Developed rubrics for written communication, oral communication, and aesthetic expression to be used across selected courses.

Discussed writing intensive course requirements.

Inquiry and Problem Solving Rubrics

Developed rubrics for science and nature, quantitative literacy, and computer literacy and competency to be used across selected courses.

Graduate Success Report

Adopted Graduation Exit Survey items to assess dispositions and skills for lifelong learning.