Dan Lett '91 Presented with Doctor of Humane Letters Honorary Degree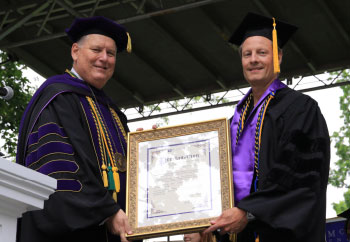 A Doctor of Humane Letters honorary degree was conferred to Dan Lett '91, outgoing Board of Trustees chairman, for his service, insight, leadership, philanthropic support and commitment to his alma mater. He was board chair for eight years and will continue to serve on the board as a member. Dan succeeded President Daniel C. Dobbins '81 in 2015 and now passes the torch of chair to George Obernagel '78.
Dan earned his bachelor's degree in business administration and accounting from McKendree, his J.D. degree at Southern Illinois University in Carbondale in 2004, and a master of international business degree at Saint Louis University in 2004. He is the executive vice president for corporate development and general counsel at Bunzl Distribution, a role he has been serving since 1998, and he has served as the Board of Governors' president at the Missouri Athletic Club.
Dan has been an essential member of the Board of Trustees at McKendree University since 1999. A member of the William McKendree Society, Dan has also served on the Alumni Association Board of Directors, having been its president from 1999 to 2003. Additionally, he was inducted into McKendree's Academy of Excellence in 2010 and received its Loyal Service Award in 2003.
Thank you and congratulations, Dan!