McKendree's Run to Banner Year in Sports Cut Short
by Stu Durando, sports reporter St. Louis Post-Dispatch
The St. Louis Post-Dispatch article was published on May 21, 2020. Reprinted with permission.

Having crunched some numbers, coach Jim Tierney was confident the lead his McKendree men's swim team had built would be hard for any opponent to overcome.

Driving to the pool on the second night of the Division II championships, a national title was within reach after McKendree finished 25th, 15th and eighth in the program's first three years.

Like so many others, Tierney still carries the pain of the moment when he learned the season was over in March. He remembers the sound of the swimmers' sobs.

The Bearcats didn't just have a successful season end with a few events remaining on the schedule andmaybe a chance to do something big.

They were halfway toward accomplishing the school's second NCAA championship with an opportunity to further cement the title that night in Ohio.

"My assistant and I had looked at the numbers and we just didn't see another team being able to make a run at us unless something dramatic happened, like a disqualification," Tierney said. "I felt we were on a roll. Nothing is for sure, but we felt we had a great shot to finish it off.

"I had gone to park and was driving back to pick everyone up after we heard. I stood there 20 minutes, and my assistant texted and said 'I think you need to come in.' I was not prepared for the level of hurt from our athletes."

He wasn't the only coach at McKendree to have championship hopes dashed in the weeks after the women's wrestling team won a title in a sport classified as "emerging" by the NCAA.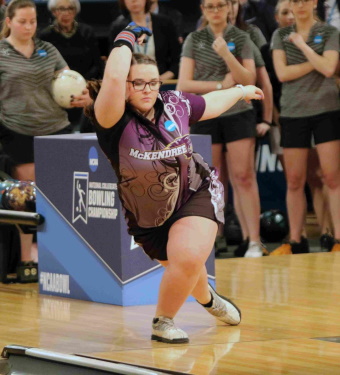 The second-ranked men's wrestling team was about to begin competition at the national championships with eight wrestlers when the event was cancelled. Both of McKendree's bowling teams were ranked No. 1, and the women were pursuing a second national title. And the bass fishing team was at the top of the points list nationally in a non-NCAA sport.

"We call it the year that could have been," athletics director Chuck Brueggemann said. "We had six possible national champions. No one would quarrel with that. No one would say that's an exaggeration." McKendree has a mix of NCAA and non-NCAA sports.

Swimming is officially sanctioned, and Tierney was hired with the intent of building a national contender after 21 years at Northwestern.

Women's bowling, which is an NCAA sport, followed that path. Coach Shannon O'Keefe led the Bearcats to a national championship in 2017 and second place in 2018.

Women's wrestling coach Sam Schmitz hopes to get the same opportunity when his sport has enough participating programs to become sanctioned. However, there is a national tournament held for the sport, and it happened to be scheduled the weekend before the NCAA shut down sports.

Schmitz also is an assistant on the McKendree men's team under coach James Kisgen. A few days after returning from the women's championships with five individual winners, including seniors Alexandria Glaude and Alexia Ward, the men left for their national championships. They never got started. The good fortune of the schedule for the women wasn't lost on Schmitz.

"We were fortunate," he said. "That was our culminating event, and we get to say we're the best in the country for now. We got back on Sunday and the men left Wednesday. (After that) it took me three or four days. After the fourth day, my wife said, 'You need to snap out of this funk.'"

The men's swim team had won 14 of 19 events at the Great Lakes Valley Conference championships and broke nine conference records. Seniors Luca Simonetti, Matija Pucarevic and Throstur Bjarnoson will not have the chance to compete again for a national title.

The wrestling team had qualified eight for nationals, including No. 1 seeds Marcus Povlick, Nick Foster and Ryan Vasbinder. And the women's bowling team would have been a favorite for its second title with four-time D-II/III national player of the year Breanna Clemmer and honorable mention All-American Taylor Bailey.

"The wrestling team had a great shot the same weekend as us, and that would have been unbelievable if we'd come out with two championships on the same weekend," Tierney said.

"There are some great coaches in our department. I came from Northwestern, and I'm equally impressed with the staff down here."