McKendree University Honors Outstanding Alumni
Akers Award, Loyal Service, Academy of Excellence, Rising Stars, Sports Hall of Fame

(LEBANON, Ill., October 17, 2016) — McKendree University celebrated the accomplishments of several alumni at its annual awards dinner, held on Oct. 15 at the St. Clair Country Club in Belleville, Ill. Chosen by the university's alumni board, the 2016 awardees have made their mark in their professions and at their alma mater.

Janet (Welch) Eckert, of Lebanon, Ill., received the highest alumni honor, the Peter Akers Award for professional success, outstanding service and loyalty. Her mother, Grace Renner Welch, received the same award in 1983. Eckert graduated in 1989 and went on to pursue a successful career in nursing as an oncology RN at Barnes Jewish Hospital (BJC), home health nurse, private duty nurse, nurse educator, and staff nurse in the gallstone clinic at BJC. She belongs to the Lebanon History Club and First United Methodist Church of Lebanon, and volunteers at the Siteman Cancer Center in St. Louis. She continues to support her alma mater as an Annual Fund contributor, William McKendree Society member, and sponsor of the Eckert Scholarships, Welch Memorial Concert and the Robert and Grace Welch Endowment at the Hettenhausen Center for the Arts on campus.

The Loyal Service Award went to John Schomaker, of New Baden, Ill. The 1980 McKendree graduate majored in accounting and business administration, and passed the CPA exam in 1981. In 1996 he became a partner at Rice Sullivan, LLC. He is a member of the Illinois Certified Public Accountant Society and the American Institute of Certified Public Accountants. He has served as a trustee of St. George Catholic Church in New Baden, chair of the finance council, and as a minister for over 35 years. He has served with the New Baden Fire Department since 1983, and belongs to the Belleville Rotary Club and the St. George New Baden Knights of Columbus.

Three alumni entered the Academy of Excellence for achievement, leadership and character in social sciences, community service, and nursing and health professions.

Kevin Lee, of Fullerton, Calif., is president of Matrix Consulting Firm. He is on the board of directors for the Adventurers Club of Los Angeles and the Orange County Underwater Photographic Society. Lee's macrophotography work has been published in magazines, newspapers, academic works, textbooks and online, and exhibited throughout the country. A permanent collection of his work resides at Chapman University in Orange, Calif. He graduated in 1980 with a degree in business administration and a minor in marketing, and earned a master's degree in public administration from the University of Oklahoma.

Angela Grossmann-Roewe, a Belleville, Ill., resident, currently represents the 12th District on the St. Clair County Board and is a general election candidate for the St. Clair County Board of Review. She is a member of the McKendree University Alumni Association Board, Daughters of the American Revolution, Ladies Ancient Order of Hibernians, and board of directors of the Violence Prevention Center of Southwestern Illinois. In addition, she has been involved as City of Belleville bicentennial volunteer, neighborhood association president, and member of the St. Teresa School PTO, St. Clair County Juvenile Judicial Council, Our Lady of Peace Mother's Club, and Belleville Catholic Schools picnic committee. The 1998 McKendree graduate majored in political science and minored in journalism.

Sharon J. Wright, of Elizabethtown, Ky., helped develop and implement an onsite McKendree ADN-to-BSN program for registered nurses at Hardin Memorial Hospital and attained full funding for 25 nurses to continue their education with their coworkers. She serves on the Nursing Advisory Board for McKendree University, Western Kentucky University and Elizabethtown Community and Technical College; the board of directors for community clinics in Hardin and Larue counties; and the board of the Hardin County Chamber of Commerce. Wright earned a master's degree in nursing administration in 2009 at McKendree's Louisville, Ky., campus while working full time as a nurse manager.

Rising Stars are McKendree University graduates of the past decade who have made significant achievements in their professions or chosen fields, and who have been highly involved in the university and in their respective communities.

Dr. Chris Cunnings, of Decatur, Ill., is an assistant professor specializing in science education at Millikin University and a former high school science and math teacher. He was named an Illinois Outstanding Teacher of Science in 2014, a State Farm Companies Foundation Scholar in 2012, and "Teacher of the Month" by Chicago's WGN-TV in 2011. Earlier this year he completed a Doctorate of Education from the University of Illinois and presented his research at Harvard University's International Graduate Student Research Conference. The 2006 graduate majored in chemistry and minored in biochemistry at McKendree, where he was captain of the football team in 2005, a second team All American, MSFA All Conference for football and academics, a peer science tutor and Sigma Nu social chair.

Tony L. Mitchell, Jr., is manager of health policy at JDRF Diabetes Foundation in Washington, D.C., where he resides. He earned a degree in political science with a speech communication minor in 2009. After graduation he became an intern for the Congressional Black Caucus Foundation and later a government affairs summer associate at the Podesta Group in Washington, D.C. In 2013, he completed his Juris Doctorate from Saint Louis University School of Law and stayed involved as an executive board member of the National Black Law Students Association and as a Student Bar Association Senator. As a college student he played football and was a member of Model United Nations, Campus Activities Board, Black Men of McKendree and student government.

Entering the McKendree Bearcat Sports Hall of Fame in 2016 are Kari (Crnkovich) Crask '96, women's basketball; Dave Markwell '73, alumni coach and professional, men's basketball and baseball; Jackson Makene Marwa '00, cross country, track and field; Hernan Francisco Mosca '03, men's soccer; and Carl Poelker, former head football coach. Read more about them at mckbearcats.com.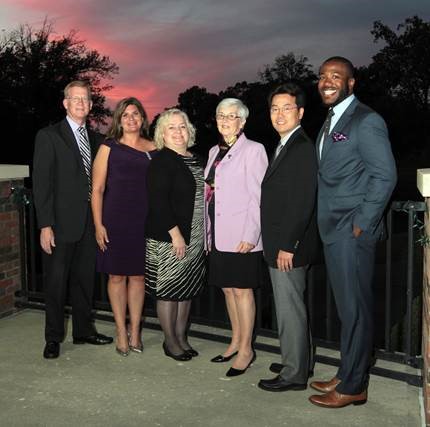 John Schomaker, Angela Grossmann-Roewe, Sharon Wright, Janet Eckert, Kevin Lee, Tony Mitchell, Jr.
-McK-