McKendree Athletic Training Professor Honored for Excellence in Teaching
Dr. Dawn Hankins Chairs University's Division of Health Professions

(LEBANON, Ill., November 13, 2017) — A McKendree University department chair and professor who oversees the athletic training program will receive the 2017 Emerson Excellence in Teaching Award on Nov 12. Dr. Dawn Hankins is the university's long-serving chair of the Division of Health Professions in the School of Nursing and Health Professions, and the professor and director of athletic training.

The annual award honors those in the St. Louis region who make an outstanding contribution to the teaching profession and to their students. Recipients are chosen by their institutions' top administrators.

"Dr. Hankins is responsible, organized, and ethical. She is a paragon of professionalism," said Dr. Christine Bahr, provost. "Students find her demanding but fair. If they are serious about becoming athletic trainers, then she is serious about preparing them to be the best. Her colleagues regard her as a leader who speaks confidently and acts with dedication."

Hankins has taught at McKendree since 1997 and has served on a variety of committees including the Faculty Senate, which she currently chairs. She is leading the development of a new graduate-level program in athletic training, which is anticipated to offer its first class in August 2019. The university is phasing out its athletic training program for undergraduates.

In 2008, Hankins received the university's William Norman Grandy Faculty Award for teaching. In 2015, she received the university's United Methodist Church Board of Higher Education Exemplary Teacher Award. Like the Emerson Award, they recognize teaching excellence, concern for students and service beyond the classroom.

Hankins is certified by the National Athletic Trainer Association Board of Certification and a licensed athletic trainer in Illinois and Missouri. She is also an American Red Cross Instructor Trainer in First Aid CPR/AED, and Basic Life Support for Healthcare Providers and an Instructor for CPR/AED for Professional Rescuers. She earned a doctorate from Saint Louis University, a master's degree from Southern Illinois University Carbondale and a bachelor's degree from Coe College.

Several other McKendree graduates or former students are among the St. Louis area recipients of the 2017 Excellence in Teaching Award:
Janice Amann '02, a third grade teacher at Mascoutah Elementary School in Mascoutah District 19.

Candace Caveny '10 M.A.Ed., a 12th grade AP physics teacher at O'Fallon Township High School in O'Fallon District 203.

Ashleigh Deets '04, a second grade teacher at Illini Elementary School in Grant Community Consolidated School District 110.

Stephanie Ferguson '10, a fourth grade teacher at Signal Hill Elementary School in Belleville, Ill.

Wendy (Stanford) Kassing '11, a fifth and sixth grade special education teacher at Shiloh Middle School in Shiloh Village District 85.

Lyndsey Mehrtens M.A.Ed. '08, a third grade teacher at William Holiday Elementary School in Fairview Heights, Ill.

Keith Padgett, M.A.Ed. '10, a social studies teacher at Belleville East High School in Belleville, Ill.

Lauren Seka-Steward '00, an eighth grade English and language arts teacher at Emge Junior High School in Harmony-Emge School District 175.

Jana Vasquez '96, a sixth grade language arts teacher at Edward A. Fulton Junior High School in O'Fallon School District 90.

Lori Zeiter '86, '11 M.A.Ed., a kindergarten teacher at Belle Valley School in Belle Valley District 119.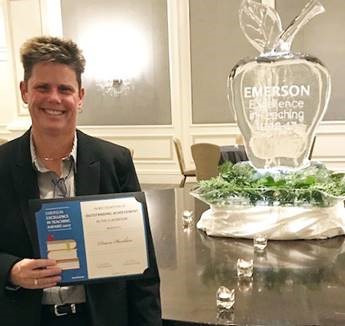 Dr. Dawn Hankins, McKendree University's 2017 Emerson Excellence in Teaching Award winner
-McK-