Dr. Shelly Lemons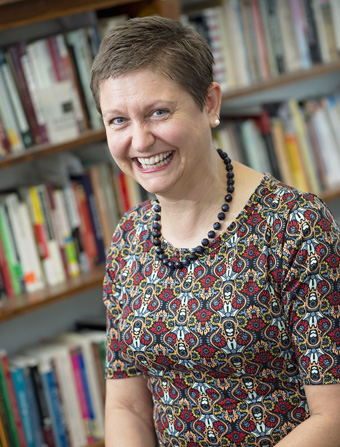 Professor of History
Ph.D., History, Oklahoma State University
M.A., History, Missouri State University
B.A., History, Central Methodist College


Faculty member since 2010

Director of the Honors Program,
Faculty Advisor for the
McKendree Young Feminists

Committees: Chair of the
Honors Council, member of the
College of Arts and Sciences
Faculty Evaluation Committee


Professional affiliations: President of the Southwestern Historical Association, member of the Mother Jones Museum Board, and winner of the 2016 Girl Scouts of the USA Volunteer of Excellence Award for her work as a Girl Scout troop leader


Teaching & research interests: Gilded Age and Progressivism, modern U.S. history, U.S. women's history, gender and sexuality

As students in Dr. Shelly Lemons' classes know, history is about more than dates, names, and facts. It's about gaining a glimpse into the lives of real people and the thrill of uncovering how their experiences shaped who they were.

Lemons has always had a passion for bringing history to life. Outside of the classroom, she served as a lead field investigator for a research project at Oklahoma State University, where she interviewed more than 100 women who lived through the 1930s Dust Bowl. Now she is taking her original recordings of primary source data and developing a book-length manuscript on interpretations for teaching the Dust Bowl. She plans to make this the focus of her spring 2018 sabbatical.

For Lemons, the driving force behind her newest scholarly endeavor is ultimately about teaching students how to think like historians. Her work in the field spills over into her classes as she challenges her students to examine history in innovative ways. "I want to meet students where they are and help them to stretch to meet high expectations," she said.

"My courses are geared toward teaching the methods historians use, as well as the content and interpretations of the past. Students experience the 'detective work' of the discipline with in-class activities, discussions, film responses, and, at the upper level, original research projects using primary and secondary sources."

In one of her introductory courses, Lemons gives her students a culminating project that allows them to creatively explore how ordinary people might have responded to major events in U.S. history. By utilizing research skills and their own perspective, they write a dialogue that could have occurred between the fictional characters they have created, giving a personal voice to Americans who experienced historical events as they happened.

In another class, called "America by Ear," she gives students the opportunity to explore events in modern U.S. society through popular songs and lyrics. Lemons again taps into her students' creativity by having them record podcasts to educate listeners on the history of a certain period, while using a playlist of songs that were popular at the time to illustrate their points.

Whether it is through her own work with primary historical sources or her means of teaching history in the classroom, Lemons inspires students to see the personal side of history and recognize their own connection to the broader human experience. She accepted the William Norman Grandy Faculty Award at Commencement on May 13, 2017.

Learn more about McKendree University and our History degree program.
Make It McKendree