Jazmine Patton '20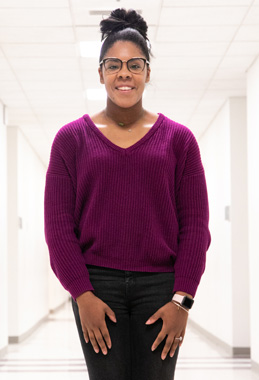 Senior from Springfield, IL

Double major in Organizational Communication and Psychology with minors in Legal Studies and Business Administration

Named to the Dean's List

Member of Phi Eta Sigma, Lambda Pi Eta, and Sigma Kappa Phi Honor Societies

Success Chair for Lambda Pi Eta Honor Society

Assistant Resident Director of the Suites

Cheerleading team

Student Ambassador and First Year Introduction Leader

Intern at Disney World and Express Employment Professionals

New Student Orientation/UNI 101 Peer Mentor

Served on Presidential Search Advisory Committee

By Stephanie (Coartney) Dulaney '10

Senior Jazmine Patton '20 is a people person. That's why she chose to double major in two fields that are all about how people behave and interact: Organizational Communication and Psychology. It's also why she chose McKendree. The community of people dedicated to helping one another showed her what she could achieve when she formed meaningful relationships with professors, staff, and students, leading her into one-of-a-kind opportunities.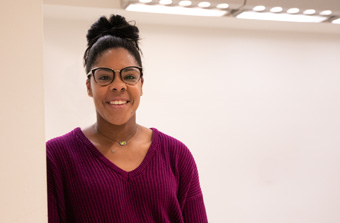 "I was not considering going to a small school when first considering colleges," Jazmine said. "After many phone calls, I was convinced to come and visit the campus. I fell in love with the small family feel. I noticed that everyone I encountered was more than willing to answer any questions I had and didn't see me as just another potential student. The personable feel I got when coming to campus made me see myself as a part of the culture and environment."

Jazmine knew from the start that she wanted to major in Communication because she considers it an art in today's society. Her passion for understanding others led her to also pursue a major in Psychology, and she added minors in Legal Studies and Business Administration to delve into the communication aspects of these two important fields.

Outside the classroom, Jazmine immersed herself in campus life, competing on the Cheerleading team, volunteering her time to assist new students, and even working as Assistant Resident Director of the Suites on campus. Last year, she was a member of the Cheerleading team as they won third place in the Game Day Division at NCA Nationals. "Performing at Nationals is something that I never would have dreamed of doing and is truly an indescribable feeling," she said. "I came into McKendree not wanting to continue any of my sports from high school due to an injury that cost me playing softball. However, the feeling of the team and coaching staff persuaded me to continue Cheer and offered me the opportunity to compete."

While her coaches and team inspired her athletically, Jazmine's professors and the Career Services staff guided her to land two impressive internships. She spent eight months during the summer and fall semester of her junior year in Orlando, Florida, working in sales as part of the Disney College Program. Thanks to the online courses available at McKendree, she was able to remain a full-time McKendree student, completing most of her Psychology coursework remotely, while gaining an incredible experience as a Disney intern.

Her second internship at Express Employment Professionals has since turned into a part-time job as a recruiting specialist. "I screen resumes and reach out to people who have applied to positions through our various media outlets," she said.



"I also get to help people who are in a bind find work to get them on their feet again. Both internships were a blessing and have taught me communication and social skills that I can easily apply to my next step in law school."

Jazmine has already received acceptance letters from Saint Louis University School of Law and Barry University Orlando and plans to make a decision soon on which law school to attend after she graduates. In the meantime, she'll be soaking in her last semester as a McKendree student and reflecting on the many important people who left a lasting mark on her path while she was here. 

Learn more about opportunities at McKendree University.
Make It McKendree  Apply Today!