Dr. Guy Boysen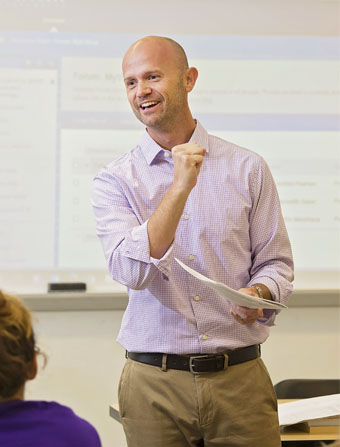 Professor of Psychology
Ph.D., Psychology, Iowa State University
M.S., Psychology, Iowa State University
B.A., Psychology, St. John's University


Faculty member since 2012

Chapter advisor to Psi Chi Honor Society

Committees: Chair of SLATE (Student Learning and Teaching Effectiveness) Committee, member of the General Education Review Committee


Teaching interests: Research methods in psychology, abnormal psychology, counseling and clinical psychology, psychological tests and measurements, the unconscious


Research interests: Psychology of the unconscious, teachers' responses to bias and classroom incivility in the classroom, mental disorders associated with violent/nonviolent behaviors and masculine/feminine stereotypes, adult dissociative identity disorder, female math stereotypes in the classroom


Books: So You Want to be a Psychology Professor? (in preparation); An Evidence- Based Guide for College and University Teaching: Developing the Model Teacher (2016)

Professional affiliations: Co-chair of an American Psychological Association (APA) working group investigating the use of electronic badges to provide credentials for professors adhering to best teaching practices
For Dr. Guy Boysen, pursuing his fascination with psychology is just as important as ensuring his students learn and grow into effective researchers. He balances his own scholarly projects with a fierce dedication to improving students' learning experience and furthering best teaching practices among all college educators.

Involving students in actual research projects is central to Boysen's philosophy as a psychology professor. Last spring, seven of his students presented their original scholarly work at the annual ILLOWA Undergraduate Research Psychology Conference, one of the oldest conferences of its kind in the nation.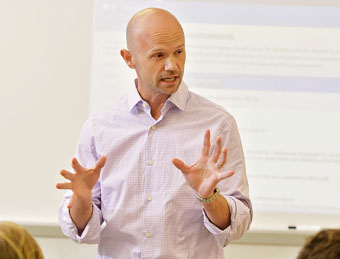 In his own research, Boysen is currently working with students to explore two different topics. One involves the effect that politicians have on attitudes toward mental illness by their tendency to focus on the mental health of violent gun offenders. Another examines the question of whether mental illness is a deal-breaker in a potential date or partner. "In both of these projects, students help create the surveys, administer them, and then typically present them at research conferences," he said.



"They learn how to do research and how to make professional presentations, which are both very impressive things to have on a resume."

In addition, Boysen also focuses much of his research on enhancing the education process for students and instructors. Most recently, he began paving the way for research in an area that has yet to see any published studies, with the exception of his own work with McKendree students. By surveying psychology students and teachers around the country, he is exploring whether instructors should use trigger warnings in psychology class to prepare students for distressing topics that might be discussed. "Overall, my research is showing that students are not very distressed by topics covered in psychology courses," he said.

"Both students and teachers think that warnings are a good idea for topics related to serious traumas, like sexual assault, but neither teachers nor students think that psychology education should avoid tough topics like that just because they are sensitive."


With one book on university teaching published in 2016, Boysen is already at work on another manuscript that leads prospective psychology professors through the ins and outs of graduate school, interviewing, and getting hired. This thorough guidebook under contract with the American Psychological Association helps put instructors on the right track for teaching at a liberal arts institution, research university, or community college.

In honor of his dedication inside and outside the classroom, Boysen received the United Methodist Church Exemplary Teaching Award during the Honors Convocation on April 27, 2017.

Learn more about McKendree University and our Psychology degree program.
Make It McKendree