Gigi Hopkins '21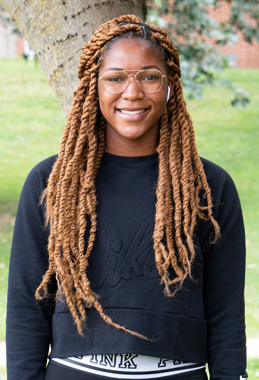 Psychology major, Sport Psychology minor from Kansas City, Missouri

Secretary for Student Government

Member of the National Society for Leadership and Success, Pi Gamma Mu Honor Society, and Phi Eta Sigma Honor Society

Social Justice and Equity Committee

By Stephanie (Coartney) Dulaney '10

She came to McKendree to play basketball, but she stayed for so much more. Now in her senior year, Gigi Hopkins '21 has discovered the opportunities and relationships the campus offers have played an important part in motivating and shaping her into who she is today.

As a Psychology major with a minor in Sport Psychology, Gigi chose academic fields that complement her specific interests and passion for working with others. "I've always been interested in helping people and really interested in how the mind works and how people adapt and react to their environments," she said. "I picked up my minor because I love sports and wanted a way to combine my love of sports with Psychology."

Gigi loved the idea of being at a close-knit university where she could build strong relationships with her professors and make a difference in the life of the campus. Through her position on Student Government and the Social Justice and Equity Committee (SJEC), she can see the tangible results of her efforts to engage her fellow students and enrich their university experience. "In SJEC we talk about how we can make our campus more open to diversity and a more welcoming environment for everyone," she said. "It's an awesome experience and a great group to be a part of!"

First formed in 2015, McKendree's SJEC is made up of students, faculty, and staff who host a variety of workshops and campus activities that promote understanding and respect for all people. They focus on creating a dialogue where the McKendree community can celebrate a wide range of perspectives and create an atmosphere that is inclusive of everyone. For students like Gigi, organizations such as this enable them grow in their own understanding of each other while contributing their voice to campus.

After graduation in May, Gigi hopes to land a job as a graduate assistant coach at another university where she can work toward her doctorate at the same time. A desire for lifelong learning is something she took away from her McKendree experience. Even in spite of the changes the coronavirus pandemic has brought to life in her junior and senior years, she still holds to the positive outlook she gained from her time as a Bearcat. "I'd say the biggest thing I learned here was how to make the best out of any situation," Gigi said.



"Things aren't always going to go the way I want them to, but my professors and friends have always motivated me, kept me positive, and kept me on the right track so I can continue to be the best I can be."


Learn more about opportunities at McKendree University.
Make It McKendree  Apply Today!