Katherine Gemmingen '20 & Caden Owens '20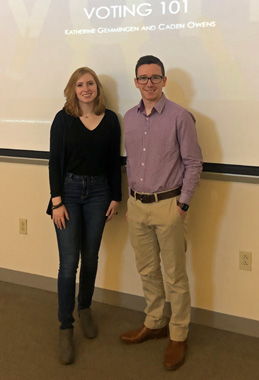 Katherine Gemmingen '20


Political Science major with a minor in Professional Writing and Rhetoric from Belleville, IL

Honors Program

Member of Pi Gamma Mu, Pi Sigma Alpha, and Phi Eta Sigma Honor Societies

Head Copyeditor of The McKendree Review

Model UN

Attended Voter Engagement Summit and Renewing Illinois Summit

Named to Dean's List and President's List

All-In Democracy Committee

Named Outstanding Student in Political Science at Honors Convocation 2020

Writing Center tutor
Caden Owens '20


Political Science major from Salem, Illinois

Honors Program

Debate All-American

Model UN Secretary General

Attended Voter Engagement Summit and Renewing Illinois Summit

Social Responsibility Committee, Civic Engagement Committee, All-In Democracy Committee

Member of Pi Sigma Alpha and Phi Eta Sigma Honor Societies

Track and Field

Named to Dean's List and President's List

Campus Election Engagement Project Fellowship

Resident Assistant

By Stephanie (Coartney) Dulaney '10

Their paths to Political Science couldn't be more different, but for seniors Katherine Gemmingen '20 and Caden Owens '20, the experiences they gained at McKendree set them on the same path to success in law school and beyond.

As first-year students, Katherine and Caden were in the Honors Program together, but that was the extent of their shared backgrounds. Katherine was drawn to Political Science from an early age, fascinated by the impact government has on people's daily lives.



"I actually was involved with McKendree's Model UN before I was even a student here. In junior high, I participated at local conferences, and then I came to McKendree's Model UN conference my senior year of high school," said Katherine.

After her first time on campus, she was hooked. Since then, she has played a major role in organizing the event that first drew her, chairing and co-chairing nearly all of the high school Model UN conferences that McKendree has hosted over the last four years. Each semester, these conferences bring 15 local high schools and more than 300 Model UN students to campus.

While Katherine knew she wanted to major in Political Science and participate in Model UN at McKendree, Caden's journey took a different route. "Originally I came to McKendree as a BioPsychology major with intentions of going to medical school," he said.



"When I took my first Political Science class with Dr. Ann Collins, I decided I no longer wanted to pursue medicine. What I saw in Political Science was the ability to help people on a broader scale. We all rely on the government in some form or another. So I decided to shift away from individual support found in medicine to large-scale support that I could do working in a governmental setting," said Caden.

Unlike Katherine, Caden also had never participated in Model UN before coming to McKendree. Instead, he was invited to volunteer at the conference halfway through his freshman year. "I watched high school delegates discuss contemporary world problems and attempt to find solutions that their representative country would pursue," he said. "To me, this seemed like a good way to incorporate global research and promote understanding of different cultures, so I continued with it." He and Katherine both participated in several collegiate Model UN conferences in Chicago and St. Louis. During Caden's first conference as a delegate, he represented the small African nation of Cote D'Ivoire. "It was actually really interesting because a delegate sitting next to me was from Cote D'Ivoire!" he said. "I think this helped expand my understanding of different cultures and how they see problems in the world."

In addition to Model UN, Caden and Katherine's interest in politics also gave them the unique opportunity to represent McKendree at two regional events, the Voter Engagement Summit at Washington University in St. Louis and the Renewing Illinois Summit at SIU Carbondale. At the Voter Engagement Summit, college faculty, students, and administrators from across Missouri and Illinois gathered to discuss differences in voting across states and strategies for increasing participation and voting access. The conference gave Katherine new ideas for growing voter engagement on college campuses like McKendree, and it helped Caden develop his thesis on Shelby County v. Holder and its effect on the Voter Rights Act. 

The Renewing Illinois Summit was the first of its kind held in the state, designed to bring Political Science students together with policymakers to make recommendations for solutions on issues affecting Illinois government. "It felt like the concerns of Illinois young adults were being heard for the first time," Caden said. "I think holding events like these allow more participation and broaden the idea that we as individuals can have everlasting change on our governments by using our voice."

On campus, Katherine and Caden used their Political Science passion in different ways. Katherine says her role as head copywriter for the student newspaper The McKendree Review has given her the chance to bring more social justice issues into focus. "I have tried to use the platform to bring awareness to issues, and I think I've also brought some academic diversity to the staff," she said. "I hope that my major can show other people that you can be involved with the Review even if you don't have a 'traditional' major for writing."

Caden's participation the Debate Team has also allowed him to use his knowledge of government functions and individual politicians to formulate arguments in competitions. He says his experiences with debate have helped him research all sides of an argument and have more empathy for those with opposing views.

After graduation, Katherine will be attending the University of Pittsburgh School of Law on a full tuition scholarship and is considering practicing law in civil rights, constitutional, health, or civil law. Caden has a job lined up working for Senator Tammy Duckworth and attending Saint Louis University School of Law, with the goal of one day running for a political office. No matter how they use their degree, Caden and Katherine are grateful for the unique opportunities McKendree gave them to make their college experience truly their own.

Learn more about opportunities at McKendree University.
Make It McKendree  Apply Today!