Erica Schuelke '17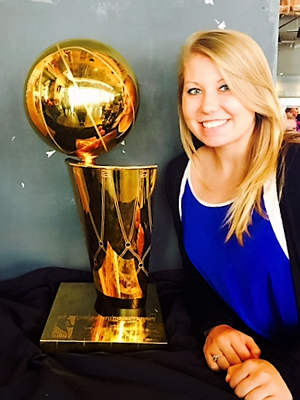 Senior sport management major from Germantown, Wisconsin

Softball player

Member of the Dean's List and Sport Management Society

Named Academic All-GLVC Honoree for Great Lakes Valley Conference

Summer internship with the Cleveland Cavaliers
by Stephanie (Coartney) Dulaney '10


For a sports lover like Erica Schuelke '17, a summer internship with this year's NBA Champions, the Cleveland Cavaliers, was a dream come true. From working with the team's executive managers and fans to sharing in the energy of the Cavaliers' historic victory, Erica has discovered that the path to success starts with the confidence to step out of your comfort zone and into something bigger than yourself.

It all started with the friendships and mentors that Erica found at McKendree. She first learned about the unique internship opportunity from recent alumna Kendall Butler '16, who had previously landed an internship with the Detroit Pistons. Kendall and one of Erica's professors, Dr. Elisabeth Erickson, encouraged her to interview with the professional sports teams at the Mount Union Sales Workshop. "Dr. Erickson pushed me to go to the workshop because she saw something in me that I didn't yet see in myself," said Erica.

"The ability to get to know my professors on a one-on-one basis has helped me to learn and grow on a better level than I would ever have at a big school."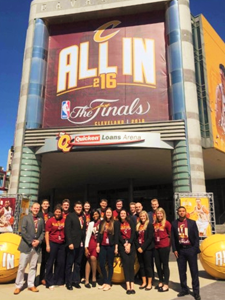 Before she knew it, Erica was offered an internship on the organizational business development team for the Cleveland Cavaliers. Within the first two weeks, she met the entire leadership group for the company. She was astounded with the openness of each manager and their willingness to take the time to sit down with her and discuss career paths.

Erica also gained valuable experience making sales pitches to fans of the Cavaliers, as well as the Lake Erie Monsters and Cleveland Gladiators. She helped staff a sales table at games three and six of the NBA Playoffs and got to experience game seven at a watch party with all of her coworkers. "Getting to experience such a pivotal moment in Cleveland history with my coworkers was amazing. Many of them were born and raised in Cleveland, so they have been waiting their whole lives to experience this championship."

Erica not only celebrated the Cavaliers' win with her sales team, but the entire city of Cleveland as well. She rode a trolley through downtown as part of the championship parade, high-fiving fans and chanting "Let's go Cavs!" with the rest of the city. "It was so surreal seeing one million people fill the streets to celebrate their city and the win," she said. "It was something I never could have dreamed being a part of, and I'm so grateful I had that opportunity."

Her internship experience, however, left her with more than just great memories and the knowledge that she was there for an important moment in sports history. Erica believes it gave her more confidence in herself and guidance for the career she wants to pursue. "Being a part of the Cavs' organization and learning from some of the best in the industry has opened my eyes to the importance of working at a company where you fit in best. One of my interviewers said, 'Sales in sports is talking sports with sports people.' There really is nothing better than sharing a passion with someone you don't know and making sure they continue to have these experiences with their friends and family."

Learn more about McKendree University and the Sport Management program.
Make It McKendree