#GivingTuesday - November 30, 2021
The Results Are In...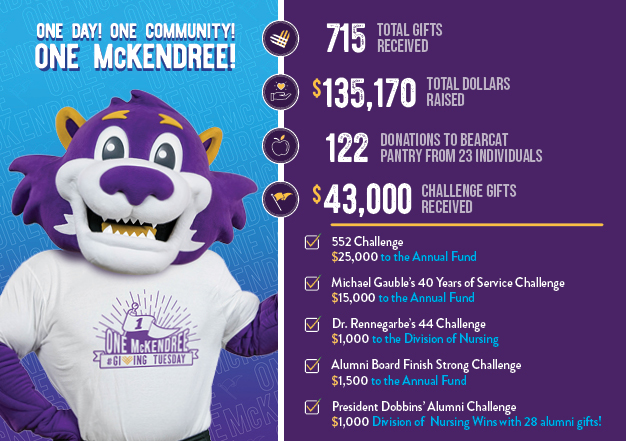 WE DID IT!

Because of you, #GivingTuesday 2021 was a huge success! This was, for the third consecutive year, the largest #GivingTuesday in dollars raised for McKendree University. 

The tremendous support McKendree received will create countless opportunities for our students and will impact the future of the University. The McKendree community is filled with gratitude that you took a moment to give back in a variety of ways! Whether you made a gift, hosted a challenge, shared/liked/posted on social media, spread the word, donated to the Bearcat Pantry, or dumped your Purple Pig - THANK YOU!

This institution would not be the great place that it is today without loyal supporters like you. Thank you again for joining the #GivingTuesday movement this year and remembering McKendree during the holiday season.

One Day. One Community. One McKendree!


Still Need To Make Your Gift?
You can still support McKendree University before the end of the year! 
Ways that you can make your gift:
Office of Development, Alumni & Parent Relations
701 College Rd.
Lebanon, IL 62254

Be sure to let us know where you'd like to direct your support!



#GivingTuesday Challenge
5 Challenges Achieved:

552 Gifts Challenge - Over 552 gifts received unlocked $25,000 of alumni challenge dollars for the University's Annual Fund!

President Dobbins' Alumni Challenge - $1,000 was given to the Story with the most alumni gifts! The winner of President Dobbins' Alumni Challenge was the Division of Nursing.

Dr. Richelle Rennegarbe's 44 Challenge - $1,000 was given to the Division of Nursing for reaching 44 gifts of $44 in honor of the 44 years of the School of Nursing & Health Professions existence and the 44 inaugural students in 1977.

Michael Gauble's 40 Years of Service Challenge - Over 40 gifts received between 6 a.m. - 9 a.m. unlocked $15,000 for the University's Annual Fund in honor of the 40 years of service of Trustee and Alum, Michael F. Gauble '66.

The Alumni Board's Finish Strong Challenge - $1,500 in Annual Fund donations between 7 p.m. - midnight were matched by members of the Alumni Association Board of Directors!

Thanks for your support, Bearcats! You Rock!
Get Social

 

Questions



For additional information at the annual #GivingTuesday campaign, please contact the Office of Development, Alumni and Parent Relations at annual_fund@mckendree.edu or (618) 537-6824.