Our 3+2 Exercise Science and Athletic Training Program Saves You Time and Money
McKendree's Athletic Training program gives you the skills to succeed in a host of different careers and allows you to complete your Bachelor's and Master's degrees in record time. With individualized learning plans and internship opportunities, as well as one-on-one faculty support, our Athletic Training major helps you achieve the career you've always wanted.



Endless Career Possibilities

We get it. You want to pick a major that not only fits your personality and interests, but can also turn into a profitable, fulfilling career. Athletic training does just that. This high-demand field is expected to grow by 21 percent over the next 10 years, according to the Bureau of Labor Statistics, and the average salary is $50,000. A strong majority of our Athletic Training graduates have jobs in place even before graduation, and their job titles are just as varied as they are.

Athletic Training majors enjoy an extremely wide range of career options, including working in settings with physician assistants, orthopedic surgeons and chiropractors. If you're interested in working with athletes to keep them in their best shape, jobs as an athletic trainer are even more diverse, including working for professional sports teams, universities, high schools, sports academies, and more. Industrial athletic trainers are another option for those interested in helping employees achieve high performance and prevent injury in the workplace. McKendree Athletic Training graduates hold positions in every one of these areas, plus other roles, including certified athletic trainer for professional sports and Olympic athlete.

3+2 Program Saves You Time and Money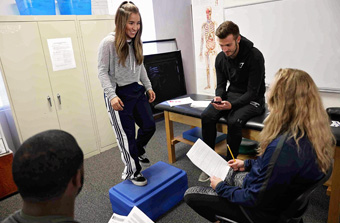 Earning a Bachelor's and Master's degree in this field typically takes about six and a half years. Through McKendree's innovative 3+2 program, however, you'll earn your Bachelor of Science in Exercise Science and Master of Science in Athletic Training in just five years. Our streamlined program is specially designed to help you achieve your goals fast, while saving you tuition costs and giving you an extra year to play as a Bearcat student-athlete.

"During their fourth year in the program, students take a mixture of undergraduate and graduate classes, but pay at the undergraduate price and are still eligible for financial aid and their scholarships," said Dr. Katy Gayford, Clinical Education Coordinator and Assistant Professor of Athletic Training. "We also allow students to play sports through their entire program, including their Master's degree years. This may allow them to keep athletic scholarship money during their Master's degree if they red shirt early in their career."



Internship Experiences

A big part of the Athletic Training program at McKendree is the professional experience we give our students through internships. After your second semester in the program, you will have the opportunity to complete internships in your unique area of interest. Our faculty work with you one-on-one to find just the right organization in which to grow your work experience.

McKendree students have interned in college strength and conditioning, whole health wellness gyms, athletic chiropractic offices, physical therapy return-to-play settings, major area hospitals, and an Olympic training center, to name a few. In many cases, our students receive job offers even before graduation through the connections they make at their internships.

Customized Learning Plans Ensure You're Prepared for the Career of Your Choice

McKendree's low student-to-faculty ratio is another benefit to our Athletic Training students in particular. With an accelerated 3+2 program, our professors hit the ground running in creating personalized learning plans that help you land the career you desire.

"We support each student's individual needs while they are preparing for their national certification exam," said Dr. Gayford. "We also explore their career goals early in the program and help them build clinical experience that leads to their career goals. We will establish new clinical sites and experiences to help them meet these goals. This has often been done for students who wanted to pursue careers in professional sports settings."

Our Alumni are Passionate about Their McKendree Experience

Each of our graduates has a story to tell on how their McKendree experience paved the way for where they are today. Our Athletic Training alums are no different.

Scott Armistead '16 was a head athletic trainer for the Barça Residency Academy before he went back to school for his Master's. "I went from McKendree's Athletic Training program directly into a Head Athletic Training job at the Barça Residency Academy," he said. "The program set me up to be more than comfortable on my own with all aspects of the job - from evaluation and diagnoses to treatment and rehabilitation, all the way to administrative duties, such as budgeting, ordering, and inventory upkeep. The faculty were and still are incredibly helpful. I am still in regular contact with them three years after graduating."

As a graduate student at Arizona State University, Scott is now working with the Academy to conduct research with the athletes for his thesis. "Every day I am using information garnered from my Exercise Science classes at McKendree (Exercise Physiology, Kinesiology, Motor Learning, and Psychology) to gather and interpret real time data and produce a research report for publication within the next year," he said.

Brad Groleau '17 is an athletic trainer with the Kansas City Royals. He advises high school students to "talk with your high school athletic trainer and see if you can observe the day to day duties that he or she is responsible for. It's also important to have a strong foundation in anatomy and physiology, as it is the basis for much of what is done within the profession."

Mary McKee '14, MAED '17 is a certified athletic trainer in the NCAA Division I setting. "I enjoy the gratification and appreciation from student-athletes when I work with them through their injuries and safely return them back to their sport," she said. "I also enjoy the responsibility of being the student-athletes' voices when it comes to their safety and participation within athletics."

What will your story be? Find out today how you can begin your journey in Athletic Training at McKendree.
Make It McKendree