Meaningful Opportunities
by Stephanie (Coartney) Dulaney '10

What does it mean to get the "McKendree experience"? It's being part of a vibrant intellectual community that's always seeking new ways of exploring the world around us, discussing current topics, and helping you discover more about yourself along the way.

McKendree students not only receive a high quality liberal arts education in the classroom, but they also have the chance to interact with notable speakers from across the country, learn directly from accomplished alumni, and participate in unique, hands-on internships with leading businesses and organizations.

These opportunities for learning beyond the classroom make up a college experience that is uniquely McKendree. An experience that's designed to give you a wider perspective on life and inspire you to grow as a person. We invite you to explore some of the many enriching opportunities you'll find when you join our community of lifelong learners.

Student Internships and Practicums

Our students are hungry for hands-on learning opportunities that broaden their experiences and apply the concepts they've studied in class. Many of them participate in internships and practicums that play a direct role in shaping their future career or introducing them to a potential employer.

This passion for continued learning is one of the reasons why 97% of McKendree's 2018 graduates found employment or were accepted to graduate school shortly after graduation.

A few of the top employers for our graduating class include:


Sigma-Aldrich
Boeing
U.S. Army Corps of Engineers
National Archives of St. Louis
Barnes-Jewish Hospital
Stifel Nicolaus
Wells Fargo Advisors
Take a look below at some of our current students pursuing exciting internships in their fields of study.

Meet Our Current Students in Internships & Practicums


Lauren Apetz '16: CBS Sports Radio 920 and InsideSTL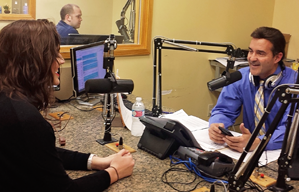 A speech communication major and journalism minor, Lauren Apetz has the goal of one day becoming a sports reporter. She's now one step closer to her dream job thanks to an exciting internship with real life St. Louis sportscaster Frank Cusumano.

On campus, Lauren has earned a name for herself as a student interviewer for BearChat social media videos and the voice of the men's volleyball team on the Bearcat Sports Network. Her high visibility and networking paid off when she was able to land an interview with Frank Cusumano, resulting in an internship in spring 2016. Lauren's journalism skills were put to work assisting the radio host and news anchor in developing stories for his show on CBS Sports Radio.

"It is awesome to hear my stories that I researched end up on his show."

Lauren notes that one of her most memorable experiences at her internship involved a historic moment at McKendree. "I actually got to help Frank develop his story for McKendree Coach Harry Statham as he got closer to setting the record for most wins ever by a college basketball coach at a four-year school. I also got to help him film and interview Harry for his television gig at KSDK. That was really cool."

Working with a sportscaster whose experience spans more than 20 years and 14 Emmy Awards has been the internship opportunity of a lifetime for Lauren. Not only has she gained firsthand experience writing sports stories for a major television and radio news outlet, but she is also being guided and mentored by a renowned St. Louis reporter. "Frank has been awesome to work with. He's currently helping me figure out my future and the paths I could take, as well as introducing me to others for networking."

Lindsey Giffey '16: CliftonLarsonAllen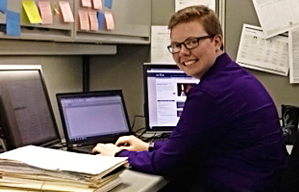 After two internships with national accounting firm CliftonLarsonAllen, Lindsey Giffey knows that the tax sector of public accounting is the perfect job for her.

It all began when Lindsey, then a junior accounting major, decided to take advantage of the on-campus interviews with CliftonLarsonAllen organized by McKendree's Career Services Office.



"I wanted some practice interviewing, and later that semester, I got a call back offering me a position."
She started her internship in spring 2015 as a client service assistant helping the firm with administrative tasks during the busy tax season. When her manager noticed her dedication and high quality of work, Lindsey was offered a second internship as a tax intern accountant for spring 2016. "It was great knowing my hard work paid off and got me another internship an entire year in advance."

This year, Lindsey plays a vital role at CliftonLarsonAllen's Belleville office preparing tax returns, assisting on audits, and doing hands-on accounting work. In January, she was even invited to attend a CliftonLarsonAllen conference in Minneapolis, Minn., where she had the unique opportunity of meeting new accounting hires from across the country.

Among its employees, CliftonLarsonAllen boasts a large number of McKendree grads, including Kevin Meder '82, Sandra Grossman '16, Katie Dauphin '14, and Luke Pope '07.

Lindsey's internships with CliftonLarsonAllen have shaped her career goals and given her a taste of what it's really like to work in a major accounting firm. "I've learned how to work under pressure, how to ask for help, and how to get better at things by learning from your mistakes," she said. "It's nice to know I have a backing of people who already know my work reputation, and I like the fact that I'm gaining more experience each day."

Josh Thum '17: St. Louis County Police

For sociology major Josh Thum, an internship with the police force he hopes to one day work for has been a dream come true. His experiences observing and participating in the day-to-day lives of St. Louis County officers have given him special insight into the field of law enforcement.

Josh has had a longstanding desire to work as a police officer for St. Louis County, given the need for greater understanding between police and the public in the area. When he reached out to the St. Louis County recruitment officer explaining his goal, he was soon offered an internship that would give him firsthand experience on the job.



 "My daily tasks consist of doing ride-alongs with all seven different precincts,    working with the fingerprint and crime scene units, and spending time in the academy."
During his ride-alongs with officers, he is able to experience what it's like on an actual shift. In one of his most memorable moments on the internship, Josh was present during a routine traffic stop when an officer discovered stolen handguns that were previously involved in a drive-by shooting a week earlier.

"I've learned a tremendous amount about what it's like in law enforcement through my internship," said Josh. "During my time with the crime scene unit, I observed them take fingerprints off a car door, watch surveillance videos, and figure out what kind of bullets were used in a shooting. I've learned how important every detail is when it comes to a crime."

Since his internship with the St. Louis County Police, Josh is more certain than ever of his career goals after graduation. "Once I've completed the Police Academy, I would like to be a patrol officer for a few years, and then test for the K-9 Unit or St. Louis County Tactical Team."

Kyle Thomas '16: Memorial Hospital

Nursing graduate student Kyle Thomas knew that earning his MSN in nursing management from McKendree would help advance his career, but he never imagined he would be learning directly from the Chief Nursing Officer (CNO) at one of the area's major hospitals.

Kyle is participating in a final course practicum where he logs 90 hours observing and working with Nancy Weston, CNO of Memorial Hospital in Belleville, Ill.

"It has been an awesome experience to work with Nancy. As the CNO, she's involved in every aspect of the hospital, every service line, unit, and department. It's amazing to see how she handles it all."
Nancy's ties to McKendree also run deep, as her husband Ed Weston has served on the university's Board of Trustees for many years. Knowing the university's reputation for an excellent nursing program, she welcomes the opportunity to share her own experience and mentor outstanding McKendree nursing students, such as Kyle.

The practicum has allowed Kyle to attend meetings with Nancy, observe behind-the-scenes work in hospital administration, and interact with several directors at Memorial. He was also able to tour the new Memorial East facility before it opens to the public and was present for the re-designation of the Obstetrics Department there.

Kyle currently works as a clinical nurse manager at Barnes Jewish Hospital in St. Louis, but his goal is to one day advance to a director position. Thanks to Nancy's mentorship and an insightful practicum in hospital administration, Kyle has much more than a degree to show from his time at McKendree and is even more prepared to achieve his career dreams.

Speaker Series

Every year, McKendree is host to countless local, national, and international speakers who are among some of the leading experts in everything from politics and journalism to business and the sciences. Their messages open our minds to new ideas and inspire us to view current events, issues, and people in a different light. Your McKendree experience means having the opportunity to engage in a dialogue with some of the nation's most accomplished professionals, enriching the university's open environment for the sharing of ideas.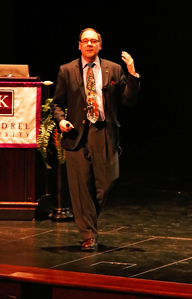 George E. McCammon Distinguished Speaker Series

From internationally known authors and journalists to accomplished scientists, professors, and government leaders, McKendree's Distinguished Speaker Series brings experts from around the world to campus to share their message with students.

"Our goal is to bring outside voices into our campus community to inform, inspire, and challenge," said Peter Palermo, director of The Russel E. and Fern M. Hettenhausen Center for the Arts. "It also provides the university the opportunity to invite the community on campus to engage in lifelong learning, which is one of our missions."

Held in McKendree's famous performing arts venue, "The Hett," the Distinguished Speaker Series attracts more than 1,500 viewers each year. Tickets are free for everyone, and audience members have the unique opportunity of engaging directly with speakers through Q & A sessions, meet and greets, and book signings.

Faculty, staff, and students on the Speaker Series Advisory Committee all play a role in selecting which speakers to bring to campus each year.

The 2015-2016 Distinguished Speaker Series included:


David Eagleman, bestselling author and neuroscientist
Kathleen Kennedy Townsend, former Lt. Governor of Maryland, author, philanthropist, and daughter of Robert F. Kennedy
James Kakalios, professor of physics at the University of Minnesota
Diandra Leslie-Pelecky, writer and NASCAR commentator
Aasif Mandvi, correspondent for "The Daily Show"
"Coming to McKendree is more than just earning a degree or learning a trade," said Peter. "It is a whole experience that should make a successful student into a better person and valuable citizen when they leave here. The university is one of the few safe places in the world where ideas can be shared and examined, and arts and lectures are part of that experience."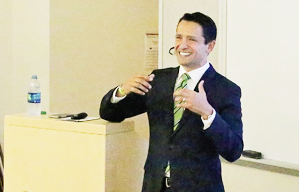 Wayne E. Lanter Lecture Series

For students in the business or communication fields, our Lanter Lecture Series is a unique opportunity to meet and learn directly from influential business leaders and entrepreneurs.

Each year, one major business professional is invited to share his or her insights and strategies for success in a presentation that's open to the public. A smaller, more intimate group of students and faculty members also sits down to lunch with six local entrepreneurs throughout the year. Students not only hear their stories of how they achieved success, but also ask questions and receive personalized tips and guidance for their own career goals.

"We have a great curriculum at McKendree," said Darren Cross, assistant professor of management. "But nothing takes the place of being able to have direct insight into the minds of those who are making a difference in the business world."

Previous Lanter Lecture Series speakers have included:


James Allsup, Founder, President, and CEO of Allsup, Inc.
Tom Schlafly, President and Owner of The Saint Louis Brewery, Inc.
Dennis Unkovic, International Attorney, Business Advisor, and Author at Meyer, Unkovic & Scott, LLP
Andrew Puzder, Chief Executive Officer of CKE Restaurants, Inc.
Michael Consuelos, Senior VP for Clinical Integration at the Hospital & Healthsystem Association of Pennsylvania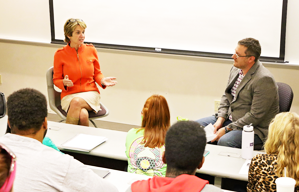 Woodrow Wilson Visiting Fellows

Since 2008, McKendree has participated in the Woodrow Wilson Visiting Fellows Program, an innovative national speaker series that brings noted professionals to universities across the country for a week of activities each year.

"The visiting fellows truly immerse themselves into the life of McKendree by attending classes, having meals with student groups, presenting to our greater community, and fostering intellectual dialogue," said Dr. Tami Eggleston, associate provost for institutional effectiveness and professor of psychology.

Not only do students have the opportunity to interact directly with a highly accomplished expert in journalism, service, politics, business, or the arts, but they also get to share their own stories and that of McKendree. At its core, the visiting fellows program is an exchange of ideas between the academic and non-academic worlds, and, for many students, having the chance to speak in person with the fellows has been truly life-changing.

McKendree's 2015 visiting fellow was Kathleen Kennedy Townsend, daughter of Robert F. Kennedy and former Lt. Governor of Maryland. An insightful author and philanthropist, Townsend discussed faith and politics with students on many different levels.

Previous Woodrow Wilson Visiting Fellows include:


Deb Horan, journalist, writer, and Middle East expert
Maria Karagianis, award-winning writer, journalist, and social entrepreneur
Kevin Quigley, President/CEO of the National Peace Corps Association, international advocate of civil society, expert on Asia and democratization
Christine Todd Whitman, former Governor of New Jersey, former Cabinet Member, Co-chair of the Republican Leadership Council
Nancy Tate, former Executive Director of the League of Women Voters
David Frakt, Lt. Col., U.S. Air Force Judge Advocate General
Callie Crossley, television and radio commentator, documentary and TV news producer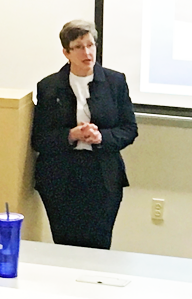 Brown Bag Lunch Series

This casual weekly lunch series invites students, faculty, and staff to discuss and learn more about a wide range of current topics over lunch. Speakers from outside the immediate community help to provide diverse perspectives on complex issues that face our area and culture.

One such speaker, noted pastor and member of the Ferguson Commission, Dr. Traci Blackmon recently shared her insight into the work of women in the Civil Rights Movement. Traci leads Christ the King United Church of Christ in Florissant, Mo., and was chosen by Governor Jay Nixon to help outline a roadmap for positive change in race relations as part of the Ferguson Commission.

Other recent Brown Bag speakers include:


Retired USAF Col. Robin L. Schultze, senior flight nurse on Air Force One
Jaimie Hileman, President of Metro Trans Umbrella Group
Chris Buckel, Director of the Contraceptive Choice Center at Washington University
McKendree students and professors also have the unique opportunity to share their own research and experiences as Brown Bag speakers. Students frequently use the series as a platform to present their study abroad experiences or involvement on McKendree mission trips to the campus community.

"The intimate environment of the Brown Bag Series is especially conducive to more free-flowing, organic discussions among attendees and presenters," said Dr. Nichole DeWall, professor of English. "It's a more flexible and adaptable format for the exchange of ideas and sharing of life experiences. Plus, the Brown Bag welcomes attendees to enjoy their lunches while participating in McKendree's vibrant intellectual climate. Talk about multitasking!"

Alumni Working with Students

Whether they're guest speaking, volunteering for scholarship days, mentoring current students, or leading a class, our alumni are always finding ways to return to campus to guide the next generation of students.

Most recently, Grammy-winning soprano Christine Brewer '76 revisited her alma mater to teach a vocal master class, giving personalized advice to her students and interweaving her own experiences in opera and music education.

"She was so friendly and down to earth that it was impossible to feel nervous once the class began," said Dawn Schmid '15. "I loved her help with interpretation of the lines."

Christine has performed in concert halls around the world and was named one of the 20 greatest sopranos of the 20th Century by BBC Music Magazine in 2007. As a student at McKendree, she majored in music education and went on to teach elementary students in Marissa, Ill., for a few years before beginning her singing career. Since then, she has made a name for herself among international critics and audiences for her impressive range, enthusiasm, and depth of emotion behind her words.

She entertained students in her vocal master class with descriptions of her thick Southern Illinois accent when she was a college student and emphasized the importance of taking risks, developing patience, and being prepared to have fun as a vocalist. Having one-on-one feedback from one of the most talented opera singers in the world was one part of their McKendree experience they'll never forget.
Make It McKendree  Apply Today!