Athletic Training - BS/MSAT 3+2 Option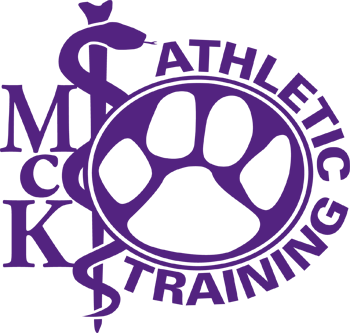 This unique program designed so that students can complete both the Bachelor of Science in Exercise Science and Sports Performance and the Master of Science in Athletic Training degrees in a total of five years. Students in the accelerated BS/MSAT program who satisfactorily fulfill all requirements outlined are guaranteed admission into the MSAT portion of the program.

To review all of the applicaton requirements and complete your application for the program, click on the following link:
Master of Science in Athletic Training

The professional portion of the accelerated program encompasses the Master of Science in Athletic Trianing requirements and consists of 49 credit hours that include the latest research, knowledge, and techniques used by athletic trainers. Academic preparation is guided by:
NATA Executive Council for Education (ECE) oversees matters related to AT education. The group facilitates quality professional and post-professional education, coordinates the delivery of educational programming for the profession and maintains a dialogue with its CAATE and BOC liaisons on accreditation and certification matters affecting AT education.

7th Edition Pratice Analysis by the Board of Certification (BOC) that defines the entry-level knowledge, skills, and abilities required for practice in the profession of athletic training.
Commission on Accreditation of Athletic Training Education (CAATE) curriculum standards.





This program is designed to provide structured didactic and supervised clinical courseowrk to prepare students for entry-level position in athletic training. Didactic and clinical coursework are sequenced and integrated to maximize student learning. The purpose of the supervised clinical coursework is to provide a structured clinical experience to prepare for professional practice and engage in professional socialization. Throughout the academic program, clinicall coursework provides direct patient care opportunities with varied client/patient populations for a variety of injuries, condition, and illnesses throughout the lifespan. 





Students pursuing the accelerated BS/MSAT program enroll in the Bachelor of Science in Exercise Science and Sports Performance (ESSP+) Plus Program. The accelerated program includes pre-requisite coursework required for application to the MSAT program. 
Prerequisite coursework includes: Health and Wellness, Biology (with lab), Chemistry, General Physics (with lab), Anatomy and Physiology (2 semesters with lab), Medical Terminology, Kinesiology, Exercise Physiology, Psychology, Statistics and Principles of Athletic Training.
Students who decide to opt out of the ESSP Plus program may still earn the Bachelor of Science in Exercise Science and Sports Performance degree by completing all remaining degree requirements listed under the ESSP Program.
Program Accreditation
McKendree University is fully accredited by the Commission on Accreditation of Athletic Training Education (CAATE).   


Program Highlights

• You'll receive personalized attention from a teacher/student ratio for classroom courses of one professor to every 14 students. In clinical settings, the maximum ratio for clinical preceptor to student is 6:1; however, the ratio is frequently one-to-one.

• Athletic Training Faculty and Staff join together in providing didactic and clinical instruction and supervision to all students.

• Every student spends 5 semesters involved in clinical rotations. These rotations involve extensive exposure with our team physicians. On campus clinical rotations provide exposure to a wide variety of intercollegiate activities including collision, contact and non-contact sports as well as team and individual sports.

• Clinical experiences can include: outpatient rehabilitation, sports medicine clinic,  educational setting (high school, community college, college/university) or physician's office. 


Websites
Commission on Accreditation of Athletic Training Education (CAATE)