By the Numbers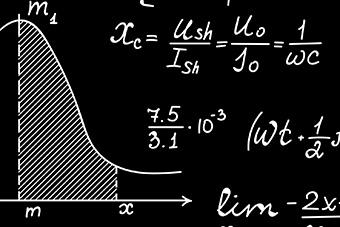 Are you a problem solver by nature? Do you enjoy working with data to discover clear-cut solutions? If you have a passion for numbers, there are a multitude of ways to turn your skills into a highly marketable, fulfilling career. McKendree's innovative degree programs in Data Analytics, Actuarial Science, Economics and Finance, Accounting, and Supply Chain Management and Logistics all pave the way for you to enter an exciting job market fully prepared for success.

What it is: Data is everywhere, from your Instagram posts and Amazon purchases to online travel bookings and Google searches. In the fast-growing field of data analytics, professional analysts organize and examine these complex data sets to draw important conclusions and solve issues in their industry. Data analysts develop the tools to understand everything from a Fitbit user's health profile to the broad effects of global warming.
Classes: You'll take engaging courses designed to hone your skills in Applied Statistics, Probability, Computing, and Data Structures and Algorithms.
Job prospects: According to the U.S. Bureau of Labor Statistics, employment in this field is projected to grow 25 percent from 2019 to 2029, much faster than average for all occupations. The World Economic Forum declared data analysts one of the most in-demand jobs across all industries in the U.S. entering the 2020s
What sets McKendree students apart in this field: One of the university's newest degree programs, Data Analytics combines the latest in technology and mathematics with a learning environment tailored to you. Our expert faculty know their students by name and guide them both in the classroom and through hands-on experiences. McKendree Data Analytics students have interned with Carnival Cruises, Leidos, Garnet Hill, and the Hettenhausen Center for the Arts.

What it is: Ever wondered how insurance companies come up with the amount they charge for home, auto, and life insurance? The answer is actuaries: professionals who apply concepts in mathematics, statistics, and financial theory to calculate risk and minimize costs to the organization. So if using numbers to potentially predict the future sounds like an awesome career, this could be the job for you.
Classes: As a track within the Mathematics degree, Actuarial Science blends courses in Business and Mathematics, including Probability, Financial Mathematics, and Principles of Business Finance to name a few. The degree track is designed to equip you with everything you need to pass the first two professional actuarial exams as determined by the Society of Actuaries.
Job prospects: Employment of actuaries is projected to grow 18 percent from 2019 to 2029, much faster than the average for all occupations. The U.S. Bureau of Labor Statistics also states that actuaries are frequently high on the list of top STEM careers, highest-earning jobs, and best jobs for women. Students with this major find employment in banking, finance, and the insurance industries.
What sets McKendree students apart in this field: McKendree Mathematics majors have access to a strong support network, from one-on-one mentoring with your professors to Career Services staff that connect you with alumni and internship opportunities in your desired field. Our students feel confident in approaching their professional actuary exams, as well as entering the workforce after graduation.

What it is: When you think about buying a new iPhone, you probably imagine going to a store or ordering it online. But a store is actually one of the last stops in the complex creation process of an iPhone. Before it was even assembled in a factory and shipped to a store, manufacturers had to create the microchip, and before that, the silicon in the microchip was mined from the earth. Supply Chain Management and Logistics focuses on using data-driven processes to efficiently get information, materials, or products like the iPhone from raw materials to you, the end user.
Classes: McKendree's Supply Chain Management and Logistics degree is offered in a convenient online format and includes courses such as Operations Management, Project Management, and Quantitative Analysis for Business Decisions.
Job prospects: This growing field encompasses a wide variety of positions such as production planner, purchasing manager, strategic sourcing manager, and transport manager. Graduates mainly find employment in the federal government, transportation equipment manufacturing, aerospace product and parts manufacturing, and general manufacturing. The National Defense Transportation Association (NDTA) Foundation even offers scholarships for college students majoring in logistics, transportation, or passenger travel.
What sets McKendree students apart in this field: McKendree School of Business is a proud partner of the National Defense Transportation Association (NDTA). First offered in 2019, McKendree's Supply Chain Management and Logistics degree was created at the request of the NDTA, and coursework includes the latest in industry trends and information.

What it is: Accountants are the backbone of every major company and industry, providing essential services in financial management, auditing, tax preparation, and ways to enhance profits. They also play an important role in the community, assisting individuals with their tax needs and helping small businesses stay on target with bookkeeping and financial operations.
Classes: Our Accounting students take courses that not only prepare them to succeed on the Certified Public Accountant (CPA) exam, but also serve them in their careers. You'll gain insight into topics such as Principles of Managerial Accounting, Taxation of Business Entities, and Auditing.
Job prospects: McKendree Accounting graduates earn between $35,000 and $55,000 per year in their first year after graduation. Salaries in the Accounting industry rise quickly as each year of experience is very valuable to Accounting firms. Many CFO's and CEO's of large companies also begin their careers as accountants.
What sets McKendree students apart in this field: Thanks to McKendree's excellent reputation in this field, our Accounting students have the top pick of internships with highly successful CPA firms, such as CliftonLarsonAllen, Anders CPAs, Scheffel Boyle, and Kerber, Eck & Braeckel. Many large regional CPA firms regularly recruit on campus. Our Accounting professors have a vast network of professional connections with area employers, as well as alumni working in exciting positions, such as Department of Defense auditors. The Accounting Club and Investment Club are active student organizations on campus that bring in speakers to discuss important industry topics, as well as tips for the CPA exam.

What it is: Economists and financial planners play an important role in helping families navigate the uncertain territory of handling their finances and investments, working with them one-on-one to ensure their financial future is bright. They are also experts at running company operating budgets, investment portfolios, and capital structure.
Classes: As an Economics and Finance major, you'll learn much more than how to balance a budget. Our courses in International Finance and Environmental Economics will broaden your perspective on the strong connections between global finance, the planet, and the nations that make it up.
Job prospects: According to the U.S. Bureau of Labor Statistics, employment growth for financial analysts is expected to rise 5% between 2019 and 2029, faster than the national average. Similarly, employment growth for economists is expected to go up 14% between 2019 and 2029, much faster than average.
What sets McKendree students apart in this field: Economics and Finance employers in the St. Louis region, including Northwestern Mutual, Country Financials, Bank of America, Scott Air Force Base, PNC Bank, and Regions Bank, tell us they specifically request McKendree students who apply for internships and volunteer opportunities because they are consistently the most prepared. McKendree's School of Business also has an External Advisory Board of prominent members in the business community who discuss industry trends and ensure McKendree students are learning what they need to be successful.