Cyber Security and Cyber Defense Are Booming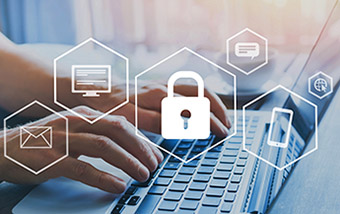 Bachelor of Science in Cyber Security / Bachelor of Business Administrtion  in Cyber Defense
What if the computer network your bank uses to house your financial information was just a big puzzle with holes in it? New holes show up all the time, and while some of them might be big, glaring gaps, others are just barely perceptible cracks. What if your job was to fill those holes before a hacker does? Or what if you could change the puzzle entirely to stop the hacker in their tracks?

This is day-to-day life for today's growing number of Cyber Security and Cyber Defense professionals. Whether your interests lie in technology or business, McKendree offers an innovative approach to preparing you for your ideal future in this booming career field. Choose from earning a Bachelor of Science in Cyber Security or a Bachelor Business Administration in Cyber Defense, each providing you with a strong foundation in different areas of the security industry.
Cyber Security and Cyber Defense: What's the Difference?
McKendree's B.S. in Cyber Security and B.B.A. in Cyber Defense may sound like virtually the same degree, but they are actually two sides of a coin. Their purpose is to give students with a variety of backgrounds and interests the opportunity to get involved in the same field.

Our B.S. in Cyber Security examines threats to digital security from a technology perspective, working with and creating the tools that secure computer network environments. On the other hand, our B.B.A. in Cyber Defense examines those same threats from a business perspective, analyzing risks and managing the overall security of an organization. Students who desire a more technical skill set that involves computer programming, encoding data, and designing firewalls may be more suited to the B.S. in Cyber Security. Likewise, students who seek a broad business mindset learning to assess and mitigate cyber threats may benefit more from the B.B.A. in Cyber Defense.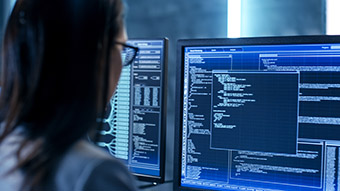 Securing Digital Privacy is a Necessity for Today's Industries and Governments
With our growing digital age, managing data security has become essential to every business, financial institution, health care facility, department of government, and more. In recent years, hackers have proven how powerful their attacks can be in disrupting entire cities, hospitals, and energy plants across the country. Thus, Cyber Defense and Cyber Security jobs are in high demand in nearly all industries, both locally and throughout the world.

According to the Bureau of Labor Statistics, the employment rate for information security analysts is projected to grow an impressive 32% over the next nine years. By comparison, all computer occupations are expected to grow 12%, and the rate for all total occupations in the U.S. will only increase by 5%. In addition to strong levels of job security, positions in Cyber Defense and Cyber Security also earn among the highest salaries, with a median pay of nearly $100,000 for information security analysts.
Meaningful Work and Endless Opportunities for Local Internships and Mentors
Just as important as salary and employment rate, how rewarding your career is also makes a big difference in overall satisfaction when choosing a major. The digital security industry is an extremely meaningful career choice for professionals in the field. Not only is their mission to defend the safety, identities, and privacy of thousands of people, but they are also at the forefront of technology, experimenting with new tools and strategies to beat hackers before they strike.

McKendree students have the unique benefit of learning firsthand from these professionals through internships and mentoring relationships. Our close proximity to Scott Air Force Base gives our students an advantage when it comes to experiencing Cyber Security careers in a military setting. St. Louis has also become a major hub for start-ups and offers McKendree students yet another avenue for internships in the defense industry, finance, health care, and more.
McKendree's 117th Regiment Cyber Defense Team
In addition to our comprehensive coursework and internship opportunities in Cyber Defense and Cyber Security, McKendree is proud of our highly-competitive student Cyber Defense Team. Made up of students from a host of different majors and backgrounds, our 117th Regiment Cyber Defense Team gives you the chance to train and compete in cyber-attack simulations with other universities across the country.

In just its third year, McKendree's team recently competed in the U.S. Department of Energy's CyberForce Competition at Argonne National Laboratory and placed third out of the 12 Illinois teams in attendance. This exciting extra-curricular not only gives you excellent resume-building experiences, but is also a way to form long-lasting bonds with teammates who share your passion for Cyber Security.


Make It McKendree  Apply Today!