Core Values of McKendree University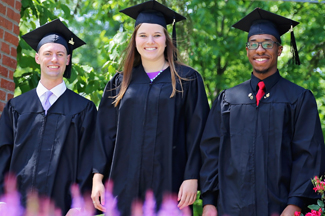 Do you know what you stand for? What are the reasons behind your most closely held values and beliefs? At McKendree, our strong values motivate and guide us to ensure that you receive a complete education: one that not only helps you achieve your goals and dreams, but also enables you to become the best version of yourself.

Take a look at our classroom curricula or campus environment and you'll find McKendree's fundamental values everywhere. Service, generosity, respect, and acceptance are woven into the core of who we are, and at the center of it all is you. We value you.

As a result, you'll find a service learning component to many of our scholarships and classes, giving you a broader perspective of life and how you can make a difference. Learn what it really means to give back to the community by participating in our alternative Spring Break mission trips both domestic and abroad. In class, you'll work with professors who respect you and whose welcoming communication style draws you into the discussion.

With students from 31 countries and a host of different backgrounds, McKendree is also a place where diversity is celebrated. Our culture of inclusion and appreciation for others guides us as we bring a global awareness to our students inside and outside the classroom. Come, be a part of our campus community because when you become a Bearcat, your experience will become more than a college degree.



Students as Individuals

At McKendree, we believe in treating our students as the one-of-a-kind individuals they are.

A student body made up of different races, religions, and nationalities gives voice to diverse perspectives and creates new opportunities to learn from one another. We not only value our students on paper; we take action to encourage their individuality in the classes, residence halls, and campus organizations where they spend their time.

Diversity is such an important McKendree value that we've built it into our curriculum requirements. No matter which major you choose, you'll have the opportunity to take unique courses in philosophy, religion, history, cross-cultural studies, and literature, enabling you to understand the people of the world in a whole new way. Many classes also include a service learning assignment that takes you outside the classroom to gain firsthand insight into the lives of those you're discussing in class.

McKendree's living learning communities bring diverse students together under a common interest. Whether it's first-generation students or those with a passion for the arts or social justice, living learning communities enable residential students to live alongside others who share a particular quality or passion. Form lifelong friendships with other residents on your floor through activities, such as meeting with local artists, mentoring each other, and volunteering together.

Our Social Justice and Equity Committee (SJEC) connection groups fill a unique need on campus by giving you the chance to discuss current social justice issues with fellow students, faculty, and staff in an open, supportive environment. We believe in the importance of dialogue to further understanding, dispel stereotypes, and foster connections among people from all backgrounds. Joining a connection group enables your voice to be heard while you learn from others.



Holistic Education

A well-rounded education at McKendree means cultivating your intellect, creativity, physical health, and spirit. As a university, we value our students' scholarly achievements and artistic expression so much that we've built a day of celebration around them. Our annual Academic Excellence Celebration gives you a platform for showcasing your original research, artwork, or performance abilities with the community at large. More than 400 students feature their work across campus during an event that brings together family, friends, and a university community of learners.

Our Gallery of Art and Holman Library are also key fixtures on campus that seek to promote intellectual and creative growth in innovative ways. Attend seminars and poetry readings from professional artists and writers, while observing the rotating exhibits of work from students and local artists at the McKendree Gallery of Art. Holman Library is also more than just a place to study. Learn about censorship during Banned Book Week and gain research inspiration from displays featuring topics such as African-American History, LGBT Pride, and Hispanic Heritage.

McKendree's Wonders of Wellness group is one way that we encourage students to take care of their bodies too. Through community gardens on campus, you'll learn how to grow food in your own backyard, creating a sustainable diet that's good for you and the environment. Our students also operate one of 27 food co-operatives selling homegrown produce in the St. Louis region. Whether it's participating in the color run, learning how to cook in a dorm room, or fundraising for cancer research, our students know that education goes beyond just feeding the mind.

The Center for Faith and Spirituality plays an important role in developing a sense of wellbeing as well. McKendree students come from a variety of faith traditions. Our campus ministries team provides activities, events, and worship services that promote understanding and give students a safe, welcoming environment for spiritual growth.



Experiential & Engaged Learning

Your education should be about more than just attending lectures. It should be something you experience in a very real way. From immersing yourself in the culture of another country to conducting scientific research in the field, you'll find yourself learning in ways you never imagined possible.

Join the Center for Faith and Spirituality and the Center for Community Service in their annual immersion trip, where you'll experience life through the eyes of a family living in a different society. Our students have traveled to rural Nicaragua, the U.S.-Mexico border in Arizona, and the inner city of Memphis, Tennessee. By living and working alongside your host family, you'll discover what it truly means to walk in another's shoes.

Your academic experience will also transport you outside the classroom as you learn by doing. Work alongside your biology professor researching plant-pollinator communities in a natural grasslands habitat. Take a leadership role as band director for a local school band founded by McKendree faculty and students. Assist area non-profit groups with web content and promotional materials while getting your writing published. Our professors know that learning means providing you with access to unique opportunities, meaningful real world experiences, and one-on-one encouragement throughout it all.



McKendree Community

We believe one of McKendree's greatest strengths is our close-knit community of supportive, caring individuals dedicated to one another's success. College can be a stressful time as you embark on a new stage of life, and we're committed to walking with you every step of the way.

Our University 101 program is a one credit hour course that's co-taught by an instructor and a sophomore, junior, or senior student serving as a peer mentor. The class addresses real challenges and situations new students encounter, such as selecting the right major and adjusting to life on campus, all within an open family atmosphere. Most importantly, University 101 students discover they never have to go through their college years alone. Faculty, staff, and fellow students become lifelong mentors and friends all because of a rich campus community putting student success first.

You'll find another layer of support at our Student Success Center, which provides peer tutoring services, assistance from professional mentors, and friendly guidance for all aspects of life at McKendree. Our commitment to community is one of our most central values, and it's one that our alumni often say they treasure most when they look back on their McKendree experience. When you become a part of this welcoming community, you'll find that you too will forever value the relationships and life lessons you learned here.
Make It McKendree