Students as Individuals
McKendree students know they're not just a number. From your first moment on campus, you'll see that your voice matters. Your views matter. Your hopes and goals matter. In short, who you are means the world to us, and during your time as a student, we strive to help you discover more about yourself and the world around you.

Our close campus community is made up of students from different backgrounds, ethnicities, beliefs, and life experiences. We believe our strength lies in our appreciation for those differences. For that reason, we cultivate a supportive atmosphere for all students through programs and events that open the door for meaningful dialogue, awareness, and action.

As you'll see, true learning happens when we lay down what we think we know and seek to understand the diverse perspectives of one another.

Open Dialogue

The respect and care we have for you as an individual is one of McKendree's top values, and one way we show it is through our style of inclusive communication. In the classroom, our professors not only instruct you on course material, but they also engage you as equals through the language they choose. One of your first impressions of a class is the syllabus outlining an instructor's policies and expectations.

"A course syllabus is an invitation, and like any invitation, you want the invitee to feel as wanted and respected as possible."

"A course syllabus is an invitation, and like any invitation, you want the invitee to feel as wanted and respected as possible," says Dr. Nichole DeWall, professor of English. "Trying to come across as strict or punishing is actually counterproductive to creating a welcoming learning environment." Something as simple as adjusting the syllabus tone and including the rationale behind the rules paves the way for a more comfortable classroom environment where everyone's voice matters.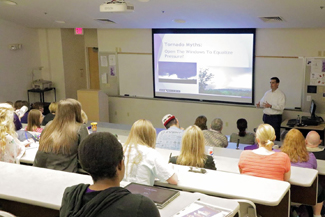 The conversation continues on a larger scale at McKendree's weekly Brown Bag lunches, which feature one or more guest speakers presenting on a wide variety of topics. Students, faculty, and staff gather to ask questions, discuss, and learn more about everything from world events and technology to music trends and unique personal stories. The casual atmosphere gives you the chance to engage directly with speakers from around the region and take part in a two-way dialogue.

McKendree's living learning communities bring diverse students together under a common interest. Whether you're a first-generation student or just have a passion for the arts or social justice, living learning communities enable you to live alongside others who share a particular quality or interest. You'll take part in unique field trips and events that bring you closer together as a group.

Our Social Justice and Equity Committee (SJEC) connection groups are a very effective way of connecting with people. In the group, you'll have the opportunity to discuss current social justice issues with fellow students, faculty, and staff in an open, supportive environment. Share your views and learn firsthand how topics like racism, sexism, and other inequalities affect people on a highly personal level. With students from 31 countries and countless hometowns across the U.S., everyone at McKendree has their own story to tell.

Global Awareness

Our campus community is also firmly committed to recognizing and drawing attention to the stories of others from around the world and in our own backyard. Hunger and Homelessness Week and Global Awareness Week are some of the most eye-opening experiences for our students to experience life in a new way without even leaving campus.

Every November, learn about economic inequality throughout the world at the annual Hunger Banquet. Join other students in an outdoor sleep-out on the quad to demonstrate the harsh realities of homelessness. You'll also hear presentations from a variety of speakers and get the chance to volunteer at a homeless shelter, enabling you to see the personal side of hunger and poverty.

In April, celebrate diversity and learn about international issues during our campus-wide Global Awareness Week. Through activities, films, and discussions, you'll see how fair trade practices impact people abroad and how worldwide political events are changing life for certain groups, such as women and people of different faiths. Experience head scarf wrapping or a traditional Native American drumming ceremony and discover how interconnected we all really are.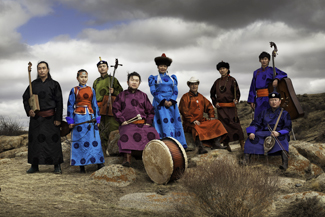 The McKendree Presents series is another way we draw students and community members into a world beyond themselves. Featured at our own Hettenhausen Center for the Arts, the Arts Midwest World Fest introduces viewers to world-renown musicians from places such as China and Canada. After a week-long residency hosted by the Hett, the bands perform in a public concert, bringing their cultural diversity and self-expression to the campus community. The film series is also a staple at the Hett, and events such as the Black History Month Film Festival give students another medium to experience diverse viewpoints.

McKendree recognizes the humanitarian efforts of its students, faculty, staff, and alumni as well. The annual Martin Luther King, Jr. Celebration Service honors their achievements while bringing renewed awareness of Dr. King's message for nonviolent social change. Through this important event, we remember the great impact one person can have in the lives of others.

Meaningful Action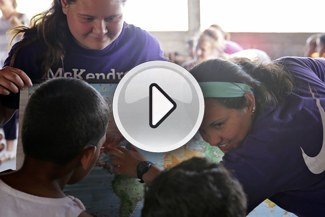 As a student, you'll not only experience diversity on campus; you'll also have the chance to participate in once-in-a-lifetime trips and activities to learn firsthand from others in different life situations. Our study abroad program enables you to spend a semester in one of more than a dozen countries while earning course credit. See the sights and make lifelong friends an ocean away when you take this incredible journey.

McKendree's alternative Spring Break immersion trips are another great way to step outside your comfort zone and experience life alongside a family from a different culture. Our students have traveled to rural Nicaragua, a U.S.-Mexico border town in Arizona, and the inner city of Memphis, Tennessee.

"In Nicaragua, we went to a sweatshop that served as the people's main source of income, and it really showed us how what we purchase at home affects their life and family."
"The immersion trips are all about relationship-building," says Rev. Tim Harrison. "We stay with host families in their homes. We live with them, eat with them, spend time with them and their children. In Nicaragua, we went to a sweatshop that served as the people's main source of income, and it really showed us how what we purchase at home affects their life and family."

Even in our own community, people can lead very different lives as a result of poverty, disability, nationality, and race. Service learning takes you outside the classroom to see the issues discussed in class and volunteer your time to do something about them. 

For education majors, the Golden Apple Scholars program gives you a glimpse into the lives of students and teachers at economically disadvantaged schools across the state of Illinois. Only 200 education students statewide are selected for this honor, and McKendree is proudly home to a growing number. Golden Apple Scholars participate in an annual summer institute, gaining teaching experience in real classrooms working with students whose life circumstances make getting access to a quality education challenging.

Through our speech, our awareness, and our actions, we're showing the world that, at McKendree, diversity isn't something that separates us, but instead enhances who we are as individuals within a greater community.
Make It McKendree