Theatre
A major in theatre gives you background in:

• Acting
• Technical Work
• Directing
• Dramatic Literature

You'll learn advanced techniques in acting, directing, and stage and lighting design and have the opportunity to utilize those techniques in production. You'll also learn about the major historical periods and genres of world drama and will be to analyze scripts from both the performance and production perspective. Our courses will help you build the needed skills in the following areas:

• Movement
• Voice
• Interpretation
• Design
• Production
• Analysis
• Critical thinking
• Writing

Major Tracks

Bachelor of Arts in Theatre
This degree allows you to gain a broad understanding of theatre art while honing your skills in a specific area of emphasis. Our curriculum includes applied studio courses in acting, directing, and technical production and design as well as course work in dramatic literature, theatre history, and theory.

A minor in Theatre is also offered.

Program Highlights

State-of-the-art Performing Arts Center
McKendree's student productions have taken on a brand new feel with the Hettenhausen Center for the Arts, opened to performances in 2006. The Hett provides McKendree's theatre students a state of the art venue to showcase their talents. Students can act on stage, help with sound and lighting, construct set pieces and participate in a variety of other ways to make a production come to life.
Literary Opportunities
Each year, McKendree's student club, the Literary Interest Society, organizes a weekend trip to the Shakespeare Theatre in Chicago to view a performance by some of theatre's current professional actors.
Alpha Psi Omega National Honor Society
This fraternity exists to honor students who have contributed to the theatre program at McKendree and to foster an awareness and appreciation of theatre in all McKendree students.

Employment

A theatre major can help prepare you for a variety of professions in the arts, education, and business. Networking, job experience, internships and expertise in your specialty are paramount to success. Theatre majors are marketable for such occupations as a performer, set designer, production manager, screenwriter or high school theatre director or teacher.

Meet the Faculty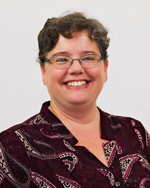 Michelle Magnussen, M.F.A.
Associate Professor of Theatre
Eisenmayer Hall 105
(618) 537-6586
mlmagnussen@mckendree.edu