McKendree University Gallery of Art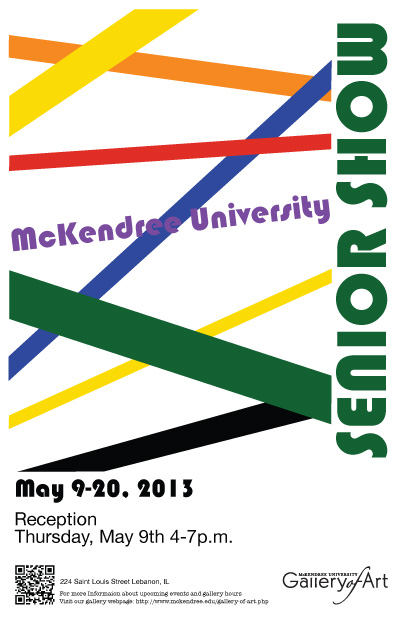 Senior Show 2013

May 9-20
Please join us in congratulating Lauren Bouchard, Stephanie Chesser, Christine Gill, Megan Pea, Justin Stern, and Brad Wright as they say their farewells and share the visual fruits of their labors.The Senior Show marks the culmination of their experience at McKendree, and is their final exhibition before moving on to real world challenges and rewards.
Their original paintings, sculptures, drawings, and designs will adorn the gallery walls through May 20th.
Meet the artists at the reception for the Senior Show 2013, which will be held on Thursday, May 9 from 4:00 to 7:00 p.m.
Please invite your guests to visit the gallery after Commencement on Saturday, May 11th.
Work by Marsha Brasel DeWilde, '78, will also be on display. Gifts made in her memory helped to make our galllery a reality. One of Marsha's paintings is permanently installed at the gallery entrance.
The McKendree University Gallery of Art is located at 224 Saint Louis Street in historic Lebanon, Illinois. Please contact us at gallery@mckendree.edu to request a gallery tour.
Exhibitions and receptions are free and open to the public.

Upcoming Shows and Events:
DAVID JANSHESKI / SICILIAN DYNASTY PART I / NEW WORKS ON PAPER
June 5-24
Opening Reception June 6 from 4-7 pm.
Jansheski's recent work was inspired by a recent trip to Sicily. Stay tuned for more info!

Previous Talks: 
Tuesday, March 26 at 6:00 p.m.
Welcome to the Big Leagues
Emmalee Shelton, a former McKendree student and founder of Autism Creates, will speak in the gallery about her experiences in working with special needs students. Ms. Shelton curated the exhibition An Exceptional Art Show and has many engaging stories to tell about the creation and the creators of the beautiful and interesting work currently on exhibit in the gallery.
Ms. Shelton will be coordinating a workshop and exhibition for area school children in July, 2013. 
February 2013
From Cage to Cardiff: Introducing the Art of Sound
This one-hour seminar will include an introductory lecture on the history of sound art, looking at some of the key artists, concepts, and technologies associated with the genre. Presenter Christopher Ottinger will demonstrate using experimental musical instruments of his own creation.
March 2013
The Evolution of the Western Female Silhouette: AKA The Corset Talk
The Evolution of the Western Female Silhouette:  AKA The Corset Talk addresses the five hundred year history of women, as seen through the manipulation and control of their bodies. Audience members will be invited to participate in hands-on demonstrations of historical undergarment reproductions.
Susan Handler utilizes the arts as an educational resource tool to investigate and communicate social cultural, gender topics, government policies, and humanitarian and environmental issues.