Assessment Resources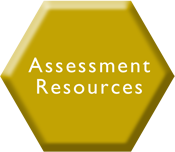 At McKendree University, we utilize many assessment resources to ensure we are providing a high-quality academic and co-curricular experience to our students. Some of our assessments are administered annually and others are administered periodically on a systematic schedule.
 
General Education Rubrics 


Rubrics have been developed to assess student learning outcomes for written communication, oral communication, aesthetic expression, science and nature, quantitative literacy, diverse perspectives, and computer literacy and competency. These rubrics are used as a direct measure of student learning in general education courses. 

Discipline-Specific Student Learning Outcomes Assessment Methods

Each academic program assesses student learning via course-embedded assessments and capstones experiences. Assessment tools include: written papers, authentic performances, portfolios, presentations, projects, research papers, standardized exams, internship evaluations, and student surveys. Results of discipline-specific (or program-level) assessments are compiled in the biennial McKendree University Assessment Report.
Student Course Evaluations

McKendree University uses an internally-developed, web-based course evaluation system. Students and faculty access the system at https://assessment.mckendree.edu. The evaluation form includes questions about the quality of the course and the instructor using Likert scale and open-ended items. Results are compiled automatically 14 days after completion of the course and faculty can access their own results as well as comparisons with aggregate school/division and University-wide means.

Course Teaching Inventory


The McKendree University Strategic Plan identifies three key elements of the academic experience: active teaching strategies, research experiences, and service learning. At the conclusion of each course, faculty complete a Course Teaching Inventory documenting their use of these three elements. Results are shared with faculty during the "Closing the Loop" Workshop each year.

Fall Student Survey

Student perceptions of residential housing and many other campus services are assessed with the Fall Student Survey, formerly called the Residence Life Survey. In addition, the survey asks about student engagement in athletics, clubs, theatre, fine arts, etc. Results of the survey are used to inform programmatic initiatives.

Graduation Exit Survey

This survey is given to all graduating students. It measures student satisfaction with University services, the social and intellectual atmosphere, campus facilities, intercollegiate athletics, and faculty. The survey also asks students to assess how well the General Education curriculum developed their knowledge and skills in preparation for graduate school and/or careers. Students access the survey at https://assessment.mckendree.edu. Each year, the Student Learning, Assessment, and Teaching Effectiveness (SLATE) committee analyzes the data and communicates the results to the faculty and administration.

Graduate Success Survey

The Career Services office administers the Graduate Success Survey to all undergraduate and graduate students who graduated the previous year. The survey asks students about their current employment or graduate school status and prior internship experience. The Career Services office prepares an annual report and shares it with the campus community.
National Survey of Student Engagement (NSSE)

Broadly, the purpose of this survey is to determine "student engagement." The Offices of Student Affairs and Academic Affairs use the results to assess progress on selected student learning outcomes and to develop appropriate student support services. The survey is administered to undergraduate students every three years.
Useful Assessment Resources

At McKendree University, our assessment initiatives are informed by a variety of resources including the following:

Association of American Colleges and Universities (AAC&U) Liberal Education and America's Promise (LEAP)

This resource by the AAC&U provides information about essential learning outcomes, high-impact educational practices, and authentic assessments, including rubrics.

The Degree Qualifications Profile (The DQP)

The Degree Qualifications Profile (DQP), developed by the Lumina Foundation, includes the abilities, knowledge, and skills that college graduates should achieve. McKendree University has participated in two Lumina projects and the DQP informs our assessment initiatives.

The Higher Learning Commission Assessment Workshop

The Higher Learning Commission (HLC) assessment workshop includes informational presentations and mentored time for institution teams to produce a plan and strategies for implementing assessment projects on campus. Participation in the assessment workshop informed development of our Assessment 2.0 Plan.


National Institute for Learning Outcomes Assessment (NILOA)

NILOA is a comprehensive resource for assessment best practices to make student learning outcomes usable and transparent.