8 Ways to Get the Most out of Your Winter Break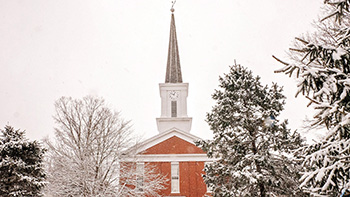 The fall semester has finally come to a close – you know what that means. It's time for winter break! While you're away from college, you might be wondering what to do with all of your spare time aside from binge-watching your favorite TV series. While there's definitely nothing wrong with kicking back and streaming your favorite shows, there are a few other things you could do to make your winter break more fulfilling. Here are our top 8 tips:

Look into Your Next Internship or Job

Jobs and internships might be off your radar for the moment, but you can always benefit from doing a bit of brainstorming or researching to find your future ideal job. Take a little bit of time to research companies, fields, and locations that match up with your career goals. Update your resume (or create one if you haven't yet) with your most recent achievements. You could even take advantage of some holiday sales and score some professional clothing for your future interviews and jobs.

Resell Your Old Textbooks

Still have some of your old purchased textbooks sitting around? Clear up some space now by selling them! You can sell them back to the McKendree Bookstore, to your fellow students, or even to online retailers. Just make sure the books are in good condition to get the most cash back!

Get Organized

Before the spring semester begins, take some time to go through your supplies and determine what you'll need to restock, including writing utensils, notebooks, folders, sticky notes, and more. You can also recycle, donate, or throw away things you no longer need. This is an excellent way to close out the fall semester and prepare for the next one!

Learn Something New

Did you know that every time you experience something new that you're opening new neural pathways? Learning new things or even just getting out of your everyday routine is good for your brain. You can start firing those synapses by getting ahead in next semester's coursework, hopping on Skillshare or YouTube to learn a new skill, taking music or language lessons, or watching a documentary on something new to you. Dive deeper into something that interests you – space, technology, dance, dead languages, geography, or anything else. Doing so will keep your brain sharp and healthy!

Get a Jump on Next Semester

Hear us out. You'll be heading into a new semester with all-new courses and, more than likely, a completely different schedule. Before you completely shut off your brain and pay no mind to anything academic, take some time to get to know your new schedule and check out your upcoming courses. If there are any new syllabi available, take a look at those as well to determine how you should prepare once January rolls around. After you gain some insight as to what the next semester will look like, you can kick back and put it out of your mind for the next handful of weeks.

Set New Goals for Yourself

There's no better time of the year to reflect on all the progress you've made this year and brainstorm what you might like to achieve next year! Take some time during winter break to think about your personal and academic goals and how you can go about making them come true. Just make sure that they're "SMART" goals: specific, measurable, achievable, realistic, and timely!

Go on an Adventure

Remember what we said about how doing new things is good for your brain? Bundle up and head out of the house every now and again during your break. You could take long strolls in different places of your hometown, take a day trip somewhere new, or even travel to a different state or country. Once you're back from your Yuletide adventure, feel free to warm up with a cozy blanket and a mug of your favorite warm beverage.

Relax and Make Some Memories

A break isn't a true break if you don't spend a good amount of time relaxing. Savor your time off by spending time with your loved ones, catching up with your friends, sleeping in, and truly unwinding. Do things that make you happy, whether it's baking cookies, ice skating, or listening to your favorite podcasts. No matter what you do, just make sure you take the time to enjoy the season with the people who matter most to you!

Not heading home during the break? Consider trying some of these things to make the most out of your time off:
Explore your surroundings: Visit fun places in nearby St. Louis, go ice skating, set out for a hike, or find some local events to attend.

Hang out virtually with your friends and family! Just because they're far away doesn't mean you can't spend some time having a nice chat over Zoom, FaceTime, or another platform.

Enjoy the lights by taking a walk or a drive around Lebanon and the surrounding neighborhoods.

Do some puzzles: If puzzles aren't up your alley, have fun playing video games or board games by yourself or with others.

Read something fun, whether it's the next best-seller, your favorite manga series, or a book you've been wanting to read but haven't had time for because of schoolwork.

Get your creative juices flowing by drawing, painting, playing some music, knitting, and more!
No matter what you choose to do this winter break, we hope you enjoy every minute of it, and we can't wait to see you next semester! Have a wonderful break, Bearcats – you've earned it!