McKendree's Literary and Art Magazine: A Catalyst for Change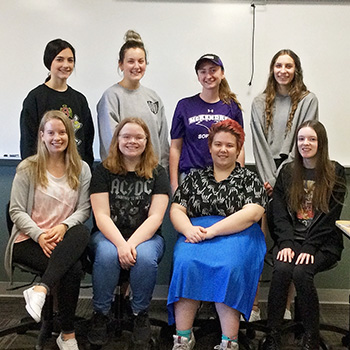 McKendree offers several different student publications on campus where students are given the opportunity to express themselves. One of these publications is McKendree's literary and art magazine that you may know as Montage. With the magazine's 30th anniversary this year, the current student editors— Allison Carnell, Felicity Crowell, Alivia Garcia, Amber Gillam, Haley Moody, Kristin Rood, Taylor Roth, Julianne Thornton, and Hannah White— have celebrated by changing its name from Montage to Catalyst, so that the name better reflects the student work it publishes.

The History Behind McKendree's Literary and Art Magazine 

Catalyst, formally known as Montage, has been publishing poetry, prose, and artwork from undergraduate students attending McKendree University's Lebanon campus since 1991-92.

The student-edited magazine publishes once a year, starting with print editions and now with a website as well, expanding the amount of work that can be accepted by student editors. The first print editions can be found at McKendree's Archives and Museum in Holman Library.

Why did McKendree's Literary and Art Magazine Change Its Name? 

In the thirty years that McKendree's literary and art magazine has been publishing student creative work, the world around us has experienced significant change, and the future may seem uncertain for many. "We chose the name, Catalyst, looking to promote more change," says Taylor Roth, one of the student editors for Catalyst. "Art in all its forms is evocative and special in the way that it sparks ideas, molds human perceptions, and moves the world forward. We as an editing team are looking to capture this type of art and use it as a catalyst of needed change in the world around us." 

What Does "Catalyst" Mean for the Editors of the Magazine? 

In chemistry, a "catalyst" ignites a reaction. "With how much change is happening in America, it just feels right that our institution's magazine for expression reflects that. The word "catalyst" isn't just chemical and sterile, it's representative of the way people can use the arts to propel positive change, starting with our school," says Hannah White, another student editor. "Our goal is for the content of Catalyst to get people talking and moving towards a better, more sustainable, and more inclusive world. A catalytic reaction doesn't just happen, it has to be triggered; maybe Catalyst can be the trigger for our students."

What Does Catalyst Publish? 

Catalyst publishes poems, short fiction, short nonfiction, artwork, and photography by undergraduate students attending McKendree University's Lebanon campus. The editors of the magazine encourage students to submit work regardless of their major or field of study.  

Why You Should Consider Publishing Content for Catalyst 

Student-run literary and art magazines are a great place for students to start publishing material and to gain exposure. Many well-known writers, such as Langston Hughes, F. Scott Fitzgerald, and Ernest Hemingway, published in small magazines like Catalyst and gained early exposure. Publications can be added to résumés, and having work in a literary and art magazine allows you to gather proof that your work is sought after.

How to Submit Your Work to Catalyst 

To submit written pieces, you should send two copies— one with your name and contact information and one without— of a Word document that includes your submission to Dr. Jenny Mueller's email address, jimueller@mckendree.edu, by March 25, 2022. To submit visual art, send a JPEG or PNG file to the same email address. Dr. Jenny Mueller is the faculty advisor for Catalyst and gathers all of the student submissions before giving them to the editors. The submissions that will ultimately be published in the magazine will be chosen by the student editors through a "blind" judging process; this ensures that pieces will be chosen without any biases.

Catalyst's Plans for the Future 

The magazine will be out the same week as the Academic Excellence Celebration. Students can view the magazine online through its website or can pick up a print copy. Print copies will be available on campus and will also be handed out during Catalyst's poster session at the AEC. Catalyst will also take part in a presentation at the AEC where students with work published in the magazine will read selections of their creative writing.

While the magazine has changed its name, Catalyst will continue to publish the best poetry, prose, and artwork the campus has to offer; students can check out the magazine at https://www.catalystmck.com/. Catalyst encourages students all over campus to spark the change you want to see.