McKendree University is Ranked Among Top Value Online Master's in Education
(LEBANON, Ill., November 29, 2016) - McKendree University has been ranked among the top 50 best value colleges for an online master's in education by College Values Online. The ranking was published on the organization's website in November.

McKendree University was ranked 23rd. This ranking was created using data from U.S. News and World Report, Payscale and the National Center for Education Statistics' College Navigator database. The following methodology was used to determine the top 50 best value colleges for an online master's in education:
- Awards and recognition (related to education)
- Customization options
- Innovative programs and/or teaching methods in education
- Internship opportunities in education
- Scholarship opportunities in education
- Related student organizations and societies
- "Wow" factor
"The high quality, flexibility and affordability of our online programs is reflected in this ranking," said Dr. Jim Rosborg, director of Master's in Education at McKendree University. "We are proud to offer our online students the same quality, caring experience we offer to on-campus students."

McKendree University offers a single online master's in education degree program; however, students in the program can choose from two majors, Higher Education Administrative Services and Curriculum Design and Instruction, as well as a Middle School Endorsement. These programs are primarily designed for students who already have some experience teaching, but want to advance their career or improve their teaching skills. The university keeps the needs of these busy students in mind by making its programs flexible enough to meet their needs. Courses are asynchronous, all programs are entirely online, and students have up to seven years to complete their master's in education online degree.

Read more about all of McKendree's online graduate degree programs.

College Values Online offers practical guidance rooted in careful research and informed by over 20 years of experience in college selection. The site delivers school and program rankings, highlights feature articles on the college experience, and provides career information, as well as a reference section. Researchers interact with multiple data sources like College Navigator, Forbes, Kiplinger, U.S. News & World Report and Princeton Review.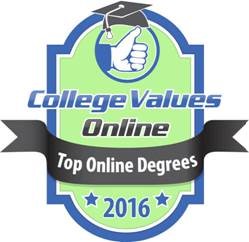 -McK-