Stephen Kull Named McKendree University Vice President for Institutional Advancement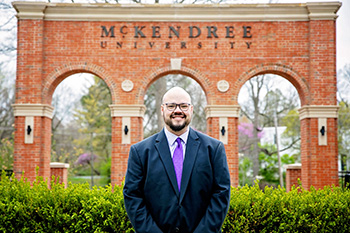 (LEBANON, Ill., April 19, 2022) – McKendree University has named Stephen Kull as its Vice President for Institutional Advancement. Kull is currently the Vice President for Advancement and Chief Philanthropy Officer at Rockford University, in Rockford, Ill., where he is responsible for the management and oversight of alumni engagement, annual giving, planned giving, major gifts, corporate and foundation gifts, data and gift management, prospect and grant research, marketing and communications, and university events and scheduling. He will start in his new role at McKendree on May 2.

"We're pleased to welcome Stephen as our Vice President for Institutional Advancement," said McKendree University President Daniel Dobbins. "This was a key search for our institution as we prepare to roll out our strategic plan, UNITED. Stephen's wealth of experience in higher education advancement, capital campaign leadership and strategic planning will make him a valuable addition to McKendree. We look forward to him becoming a strong contributor to our senior leadership team as we continue to further the mission of the university. We are excited for Stephen and his family to become part of our McKendree family."

As Vice President for Institutional Advancement, Kull will oversee all areas of development, alumni and parent relations. In his 17 years of higher education advancement experience he has worked collaboratively to secure more than $200M in philanthropic gifts. Under his leadership, the alumni participation rate at Rockford University doubled and faculty/staff participation rates increased from 13% in FY19 to 82% in FY21. Prior to his current position, he was Associate Vice President of Advancement at Central Michigan University, where he successfully managed fundraising efforts for the University's "Fire up for Excellence" $100 million campaign, the largest in the institution's history. He has also served as Director of Development – Gift Planning, Senior Director of Development and Interim Assistant Vice President for Advancement at Eastern Illinois University, as well as in other development roles at Blackburn College and Concordia Seminary in St. Louis.

"I am both humbled and thrilled to join President Dobbins and a passionate team at this point in my career," said Kull.  "I began my advancement career in the St. Louis area and this move feels like I've come full circle.  I am looking forward to the exciting work we have ahead of us at McKendree.  I'm eager to partner with the university's passionate alumni, parents, and friends to support the initiatives, projects, and programs taking shape at the university.  My family and I cannot wait to join the McKendree family and meet members of the campus community, alumni, and friends."

Kull earned his bachelor's degree in sociology from Texas A&M University, a certificate in executive management from University of Notre Dame, and is currently working on his MBA in Organizational Leadership from Rockford University. He and his wife, Angela (Collins) Kull, a Mascoutah native and former McKendree student, have four children.
-McK-