Live Music, Inflatables and More at McKendree's 'Spring Fling'
NOTICE: Due to incoming weather on Saturday, April 25, Spring Fling activities have been suspended. It is planned to offer a modified version of Spring Fling on Friday, May 1 from 12pm-4pm. A schedule of giveaways, activities, and offerings will be available next week. Several Registered Student Organizations who were scheduled for this weekend's event will also be on hand for the May 1 date.

(LEBANON, Ill., April 14, 2015) - Live music featuring local and regional bands, inflatable set-ups and more will be part of the fun at McKendree University's Spring Fling on Saturday, April 25 from noon to 5 p.m.

The annual end-of-school-year event is open to the community. A variety of activities will be set up on the campus quad, west of Alton Street in Lebanon.

Local and regional bands will perform, including the all-male a cappella group KaZual at 2:30 p.m. and Dirty Muggs at 3:30 p.m.

"We're really looking forward to this musical line-up," said Shyla Bougor-Miner, traditions programming coordinator for the Campus Activities Board. "There's a little bit of something for everyone – cover tunes and some original music that spans a variety of genres."

Inflatables, obstacle courses, bounce houses, jousting arenas and water slides will be set up on the quad, as well as concession stands by several local eateries. Other activities will include airbrush tattoos, caricatures, a psychic, a balloon artist and much more!

Many games and inflatable activities are free of charge. Several student organizations will be on hand hosting fundraisers to assist their groups. Concessions will be available for purchase. Lawn chairs are encouraged but coolers and alcohol are prohibited. Due to construction on Alton Street, alternate routes on Stanton Street and Monroe Street must be taken.

Spring Fling is sponsored by the McKendree University Campus Activities Board. For more information, call (618) 537-6856.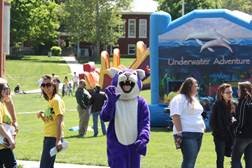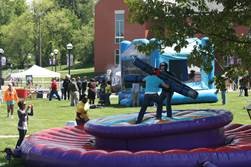 Scenes from the 2014 Spring Fling at McKendree University
-McK-