$2.5 Million Gift Advances Science Hall Renovation
(LEBANON, Ill., June 2, 2015) - A $2.5 million gift from an anonymous donor will help McKendree University move closer to its planned $18 million renovation of Voigt Science Hall. The gift is among the fifth or sixth largest donation in the institution's history, noted Victoria Dowling, senior vice president.

"Gifts of this magnitude are transformational," she said. "We hope it inspires other donors to continue to advance the project. This is a building that will touch virtually student on this campus, as every student will take a course in this building. The impact is quite broad."

Additions to the building will include a large lecture hall, research space, laboratories and prep rooms, and a new entrance. Renovations to the existing structure will include redesigned classrooms, labs featuring the latest technology, offices, meeting space and an observatory.

"It will benefit our faculty and certainly our students as they dig deeper into scientific inquiry, with the equipment and apparatus our students need to go forward," said Dr. James Dennis, university president.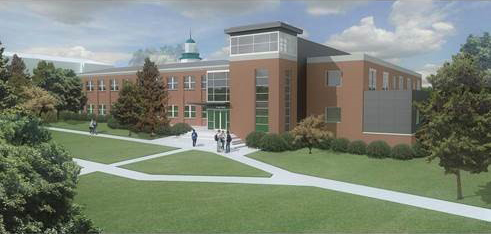 A rendering of planned renovations to the science building on campus includes an addition and a new entrance on the northeast side.
-McK-