McKendree University is Among Nation's Top Military Friendly Schools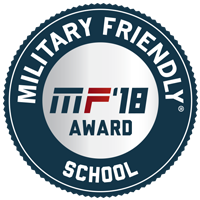 2018 "Better for Veterans" Organizations Identified Across the U.S.

(LEBANON, Ill., December 18, 2017) — McKendree University has been designated a 2018 "Military Friendly® School" by Victory Media, which sets standards for higher education institutions to provide positive opportunities for veterans. Now in its 16th year, the Military Friendly Schools list provides a comprehensive guide for veterans and their families using data sources from federal agencies, veteran students and proprietary survey information from participating organizations.

More than 1,300 schools participated in the 2017-2018 survey with 849 earning the designation.  Institutions earning the Military Friendly designation were evaluated using both public data sources and responses from a proprietary survey completed by the school. For the first time, student survey data was taken into consideration for the designation. The 2017-2018 list appears in the December issue of G.I. Jobs magazine and at militaryfriendly.com.

Methodology, criteria, and weightings were determined by Victory Media with input from the Military Friendly® Advisory Council of independent leaders in the higher education and military recruitment community. Final ratings were determined by combining the institution's survey scores with the assessment of the institution's ability to meet thresholds for student retention, graduation, job placement, loan repayment, persistence (degree advancement or transfer) and loan default rates for all students and, specifically, for student veterans.

"Our ability to apply a clear, consistent standard to colleges creates a competitive atmosphere that encourages colleges to invest in programs to provide educational outcomes that are better for veterans," said Daniel Nichols, Victory Media's chief product officer.

McKendree University's Center at Scott Air Force Base offers degrees in accounting, business administration, management, marketing, computer science and computer information systems. Classes are taught in accelerated and blended formats, which are advantageous for students whose schedules may change frequently. The center also offers reduced tuition and a convenient one-stop location on base, where students can register for classes, apply for financial aid, buy books, pay tuition and get a parking sticker.

For more information about McKendree University's commitment to attracting and supporting military students, visit mckendree.edu/military.
-McK-